DigMandarin's Book Of the Month: Barron's AP Chinese Language and Culture Study Guide"- April 2014
Last updated: February 18, 2015
Hello, Mandarin learners! Today, we are launching DigMandarin´s new monthly periodical series: "DigMandarin´s Book Of The Month". For the following months, DigMandarin will review new and engaging books. These books will not only be about learning Mandarin, but also about the history and culture of China. For the debut of this new series, we reviewed a book covering both areas: Barron's AP Chinese Language and Culture Study Guide.
Review: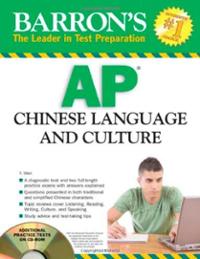 This AP Chinese book is divided into the 4 areas of Language learning: Listening, Speaking, Writing, Reading, with a chapter dedicated to each one of these areas. As a bonus, it also has two chapters with Cultural Notes about China, completely written in Traditional and Simplified characters (motivating you to learn to use a Chinese-English Dictionary, as well as to get accustomed to reading in characters). In any chapter, the standard format will be divided into: General Information, Learning Strategies and Techniques, Example Questions and Explanation.
The book is structurally divided into:
Introduction, explaining what the format is and what will be covered on the AP Chinese exam, as well as the three modes of Chinese required: Interpersonal, Interpretive and Presentational.
Listening Comprehension, teaching techniques in order to better understand conversations.
Reading Comprehension, training for acceleration the reading speed and better comprehension of texts.
Writing Skills , advising and instructing on the different formats and techniques for different types of texts.
Speaking Skills, aiding with pronunciation and confidence in order to practice your fluency without fearing error.
Grammar Review, reviewing grammar and spoken language concepts in order to solidify a foundation of knowledge over the other areas.
Cultural Notes, providing cultural knowledge about China such as Geography, History, Politics, Economics, Art and Population.
Model Exam 1
Model Exam 2
Here is a picture showing some of the techniques and lessons taught by the book: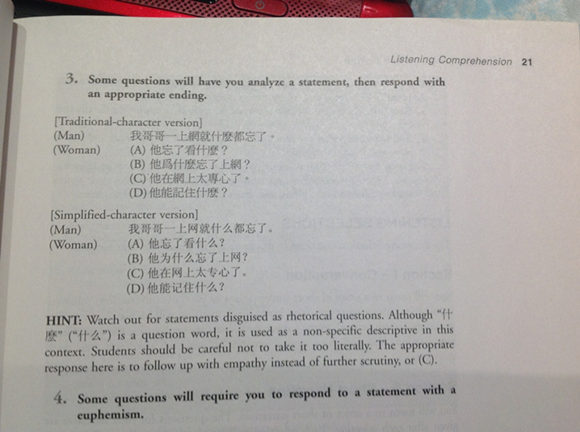 Although this book is focused on preparing AP Chinese Language and Culture students for tests, it is a very useful tool for intermediate and advanced learners.
Its comprehensive grammar guide chapter is easy to understand and excellent for reviewing concepts of syntax. It is divided into the topics of :
Complements
Sentences with Special Predicates
The Passive Voice
Existential Senteces
Sentences with Verbal Constructions in a Series
Pivotal Sentences
Comparisons
Expressing Emphasis
Complex Sentences
Common Sentence Patterns in Spoken Chinese
Finally, it can be an excellent way to practice for other Chinese standardized tests, such as the HSK and the SAT Chinese Subject Test.
**If you want to learn more about AP Chinese Language and Culture, click here.
Thumbs Up
Logically Separated into sections of Listening, Reading, Writing, Speaking , Grammar and Culture of China
Two full length AP Chinese practice exams with answer keys and explanations in both Traditional and Simplified Characters
Two Listening Comprehension Practice audio CDs
Includes a list of resources such as websites, news channels and other learning tools
Thumbs Down
Culture section is entirely in Chinese, making it unsuitable for Beginners
Black and white text and images, making it a little difficult to read
Big and heavy, so not easy to carry around
Recommended For…
AP Mandarin Students and Prospective SAT Chinese Subject Test takers
Intermediate and Advanced Students looking to review Mandarin grammar, but also practice for the AP Chinese test as well as other standardized tests, such as the HSK and the Chinese Language SAT Subject Test.
Beginners can also use it to see the Learning Resource index in the end of the book, indicating websites and other learning materials. Furthermore, this book can be used as a curriculum guideline for your private or independent Mandarin studies.
Ways to Use It
As a study guide to Chinese Standardized tests, such as the Advanced Placement Chinese Language and Culture,HSK and SAT Chinese.
Work on one specific skill,such as Listening with its two included Audio CDs, or with Reading by trying to read passages in Characters .
Review grammar and syntax concepts for Intermediate and Advanced Level students practicing conversation.
Use passages on Cultural Notes to practice reading books about China.
Where to find this book