Dig Mandarin's Book of the Month: Cheng & Tsui's "Strive for a 5-AP Chinese Practice Tests"
Last updated: February 18, 2015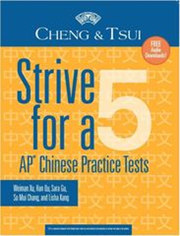 Following up on last's month article, we continue with this month's edition of " DigMandarin's Book Of The Month", brought to you by the publisher of "Integrated Chinese"— Cheng &Tsui's Strive For a 5 AP Chinese.
Thumbs Up:
Excellent Cultural notes
8 practice tests covering each chapter and subject of the book
Texts in both Traditional and Simplified forms
Extensive Vocabulary Index of all the words used in the text passages.
Thumbs Down:
Not so much Chinese grammar, Pronunciation and writing covered
Review:
For those of us who have yet to travel to China (including myself), this can be an excellent tool in two ways :(1) Practice reading entire texts in characters and testing your comprehension (2) learn more about the culture of China from an insider's perspective. So later on, you will be better prepared for reading novels and other books in Chinese.
Structure:
Firstly, this book contains an introduction in English, Traditional and Simplified characters explaining how to use this book according to the AP Chinese class curriculum. The book is divided into 8 "Units":Customs, Daily Life,Economics,Education, Entertainment,Family, Geography and the Mixed Theme. Each chapter contains a test on their subject. This test is divided into reading and listening comprehension, which is to be used along with the free audio downloads that come with the book. The reading comprehension section of the test (shown below) is comprised of a textual passage in both Simplified and Traditional Characters, in which the student must then answer questions about the text read.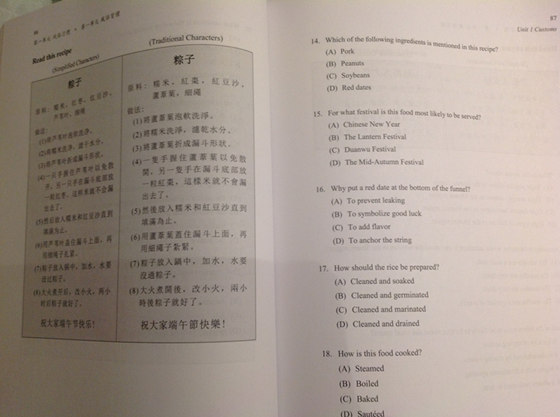 However, the listening comprehension part is divided into two parts: (1)"Rejoinders and (2) Listening Selections. During Rejoinders, you will listen to a conversation segment in Chinese and choose one of the four options that best completes and suits the context of the conversation. In Listening Selections, you will hear different forms of communication media, such as advertisements, instructions and notices. You will then have to choose the best option to the question asked about the contents of the recording.
Recommended for:
Intermediate/Advanced students looking for learning more about Chinese culture using the reading comprehension sections. For instance, those who are interested in gastronomy can try reading the recipe in one of texts and try to make it themselves.
Students needing listening comprehension practice, who do not have acess to a native Chinese speaker can still take the listening comprehension tests and also practice listening by following along to the recordings with the scripts in Appendix I.
Students preparing to take the HSK, AP Chinese, SAT Chinese and other Chinese language standardized tests. HINT: don't write your test directly on the book. Make a photocopy and you will be able to take that test more than once periodically, trying to improve your response time and test score.
Chinese teachers and students may used any of the units to supplement the curriculum taught in class, by selecting specific chapters in the book. For example, during February, the teacher can use the Customs section as they teach about the Chinese New Year in China
Those looking for more learning resources. In addition to its free audio downloads, this book contains an appendix listing a myriad of sources for students of all levels, from online dictionaries to the novices, all the way to online news sources for the advanced learners looking . In addition to this appendix, the book also contain a glossary-like "Vocabulary Index", listing ALL of the characters and terms used in the book.
Where to Find It:
So this is May's DigMandarin book of the month. Let us know what you think about it in the comments below or in social media. Also, if you have a great book that you would like a review, tell us in the comments! Your nominated book may have a review here on DigMandarin.com