Chinese Translator Apps Review: the good, the bad, and the absolutely useless
Last updated: March 3, 2020
A little pre-review ramble: I am located in Shanghai behind the Great Firewall, so I was not able to simply take a stroll in the Google Play Store like many of you may be able to do. Instead, I used my Xiaomi phone which is built in Xiaomi Market app to download all of the apps included in this review, but if you are an Android user either outside of China or you managed to get a VPN set up on your mobile device (lucky you) then you will be able to use the links provided below to access the Play Store like a normal person. On the other hand, if you have an Apple device then you have nothing to worry about.
The selected Chinese translator apps were featured into 3 categories, text translation, photo translation, and voice translation.
Pleco
(Featured: Text; Android, IOS)
Although technically not a Chinese 'translator app', I think this dictionary is perfect for students and even use it myself in my daily life. The option to write instead of typing in pinyin is very useful when searching for characters you don't know.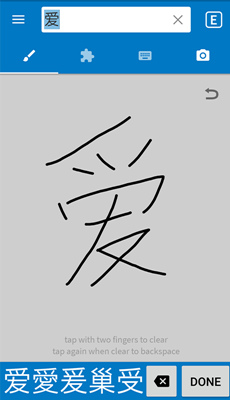 You then have four tabs that provide very detailed information and examples about how to use the word.
Simple dictionary tab: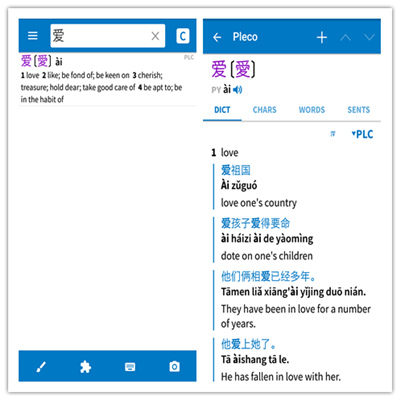 Characters tab showing other characters using the same compound: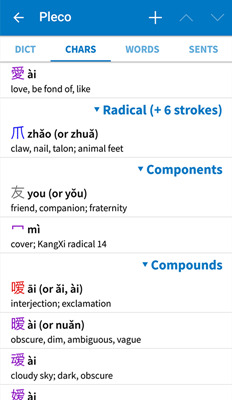 Words tab, shows words or phrases (idioms) that include the character: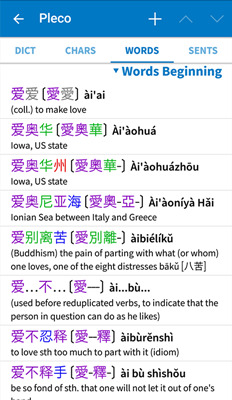 Sentences tab, this one confuses me a bit because it seems to be phrases as well, but you get the idea: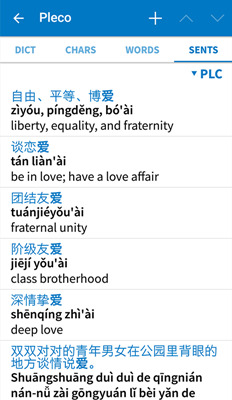 I would recommend this app for hardcore students, or for more experienced or confident Chinese speakers as it's less of a translation app and more of a dictionary. It is better for looking up a quick word you may have forgotten rather than translating an entire sentence.
Trainchinese
(Featured: Text; Android, IOS)
For some reason­ I ended up with the Spanish version… but I'm ready for a challenge!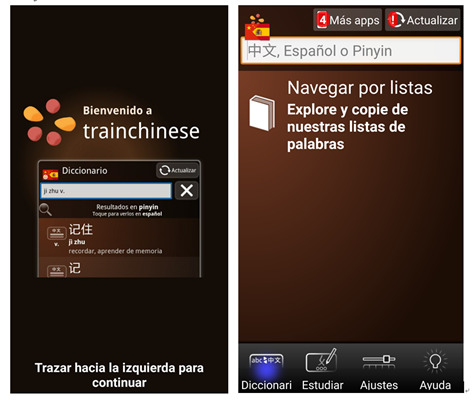 An interesting design is that one simple search provides multiple results including phrases, questions, and sentences, making it more of a dictionary or flashcard study tool than a translation app.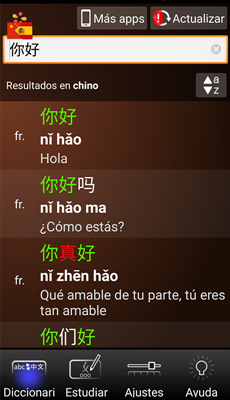 There is also an option to see the character stroke sequence, which is a feature I haven't seen with other apps, and makes it an even better fit for students that want to ensure their writing is correct.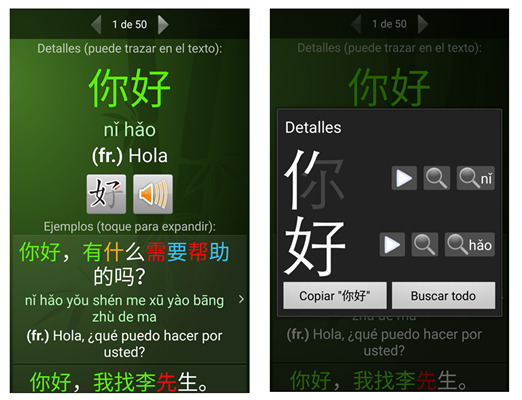 iTranslate Voice Free
(Featured: Text, Voice; Android, IOS)
If you're looking for an Chinese translator app that has a cool and sleek design, this is NOT the app for you, the interface has 0 fluff whatsoever; it is clearly only business with this app. Top right options are what one would expect– history, favourites, and settings.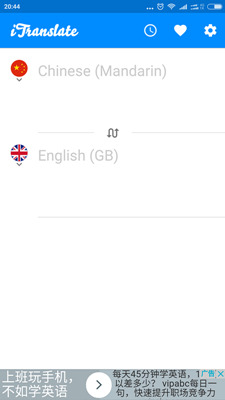 The text translation feature works well. Audio playback has a more robotic sound than the other apps, but it's still understandable.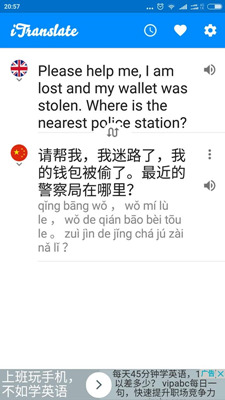 The website boasts voice translation, but it did not work. I was able to click on the icon and another window popped up that is supposed to record audio, but nothing happened. I eventually had to press my phone's 'back' button just to get rid of the window. Not sure if it's the app itself or a VPN might solve this problem.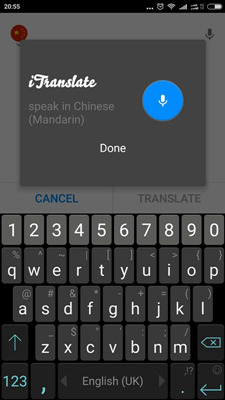 Microsoft Translator
(Featured: Text, Voice; Android, IOS)
At first glance the design is very simple and clear.
There are icons that indicate the various features offered– a microphone for voice, keyboard for text, camera for photos and two heads for conversations. On the bottom left is a clock that shows recent history and saved searches, and on the right is a book icon that is a phrasebook. This phrasebook feature is quite handy as it is broken down into dining, health, travel and directions, and other often needed categories with preset phrases.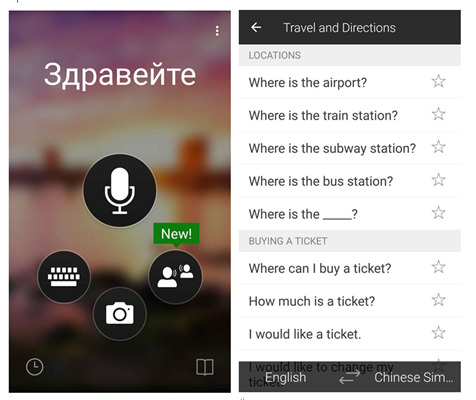 I'll type in a random sentence and we'll see what comes out.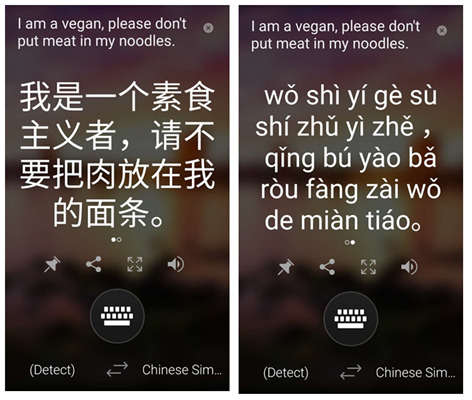 Not bad. At the end of the day the most important thing is that your message gets across without too many grammatical errors or incorrect word choices. Here you also have the option to look at the pinyin, pin it to favourites, share, full screen, or play audio.
BEWARE the voice of the playback option is absolutely hilarious and you may not be able to control your laughter. I'll admit that I had a bit too much fun with it as well.
For voice translation I tried to speak in the most 'Chinese' way that I could, because let's be honest, no one speaks their mother tongue as slowly and clearly as language learning apps lead you to believe.
The app managed to pick up the words and translated them the best way it could.
Google Translate
(Featured: Text, Voice, Photo; Android, IOS)
Now this app is well known globally, HOWEVER everything Google is blocked in China so it may not work at times.
General app layout is simple and clean; from the homepage I can see that there are photo, audio, and handwriting translation options available.
I decided to give photo translation a try this time. The app then opens my camera and prompts me to 'align text' into a certain area on my screen.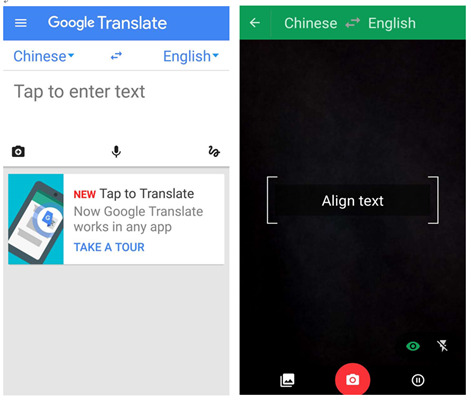 I searched for 'red packets' hongbao: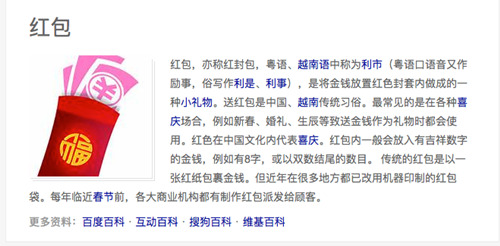 Got my mobile ready, and this is what I got: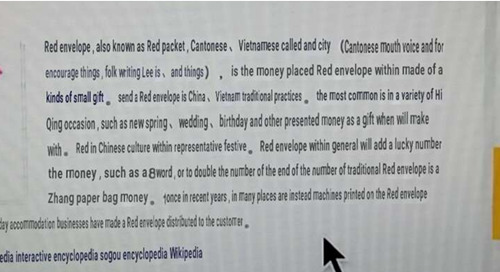 It isn't perfect, but it's really not that bad considering that it's a mobile app doing real time translation. Besides, if it was perfect then we wouldn't bother learning new languages but just take photos of everything and have our mobile devices do the work for us.
In conclusion, one of the advantages about the day and age we live in is that technology is constantly developing. There are hundreds or even thousands of options to choose from without having to spend a cent. If you're on the fence about which Chinese translator app in this review is a better fit for you and your language needs then I would recommend simply downloading and giving them all a try, after all they're FREE!
Overall rating
Great. Yes, it's not a translation app per say, but the clear word definitions and ample amount of examples will assist you in getting your message across.
Good. Clean, direct, simple, and with great features for students such as flashcards.
One downside is apparently the free version has a limit on the number of words you can search before being prompted to purchase the full version.
iTranslate Voice Free (Android, IOS)
Not the best, don't see a point in downloading just for text translation would have been better if I was able to test all the features.
Microsoft Translator (Android, IOS)
Good. Better than expected.
Google Translate (Android, IOS)
Good, but some features still have kinks that need to worked out.