Can Duolingo help you master Chinese? – Duolingo Chinese Review
Last updated: October 25, 2022
Intro:
As a language learner, if you ever tried to search for language learning apps, it's highly possible that you've seen Duolingo already. Duolingo is a hugely popular language-learning app, launched in 2012. There are about 500 million users worldwide. It promises to let you master a new language on your phone at any time, including Mandarin Chinese. Some of our DigMandarin users have mentioned that they've used Duolingo Chinese before. We are curious about this app, so this time let's dig more into it together.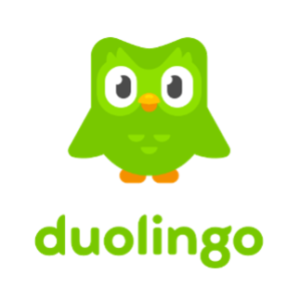 How Duolingo Chinese works:
The inside logic of Duolingo lessons:
Duolingo claims that they googled the 3,000 most commonly used words in each language, translated them into English, and used the words to compose simple sentences. Then they wrote an algorithm that would spit out lessons that include prompts for words and sentences using translation, listening, and reading.
How Duolingo Chinese works:
For Duolingo Chinese, you will first choose if you want to start from scratch or test your current level. When starting from scratch, you will directly jump into the first lesson's exercise. If you take the test, it will direct you to some topics in the middle of the course after answering several questions. The whole Chinese course covers over 1,500 words and 2,500 sentences. You can then set up a daily learning goal, such as 5 minutes, 10 minutes, 15 minutes, or 20 minutes.
Exercise types:
Flashcards: test if you can recognize the target character or word; test if you can connect the pronunciation and the shape of the character.
Translation: test if you can remember the corresponding meaning.
Listening: test if you can recognize the pronunciation. If you are not available for listening at that moment, you can skip it. There are normal and slow speed options to listen to.
Matching: test if you can match the pinyin, meanings, and words.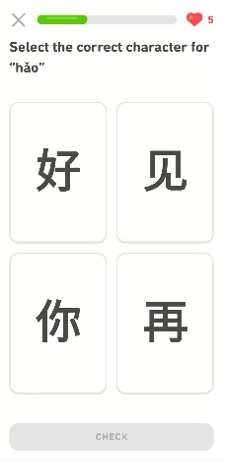 The rules:
There are many gamification tricks to draw users' attention closely, such as gaining points, treasure chests, and streaks.
If you make a mistake, it might cost you a "heart". If you didn't perform well enough during the lesson and lose them all, it will freeze your learning progress unless you do the review practice once again and pass it. To be able to continue learning and start a new lesson, you have to practice and review the content you just saw. You can't skip a certain topic to do a further one unless you can pass the test of that topic. So, it's designed for learning step by step, topic by topic. If you want to be unlimited when playing, you will need to purchase a subscription for Super Duolingo.
Duolingo's reminder system is also famous. If you don't open the app and practice each day, it will keep reminding you until you start your lesson.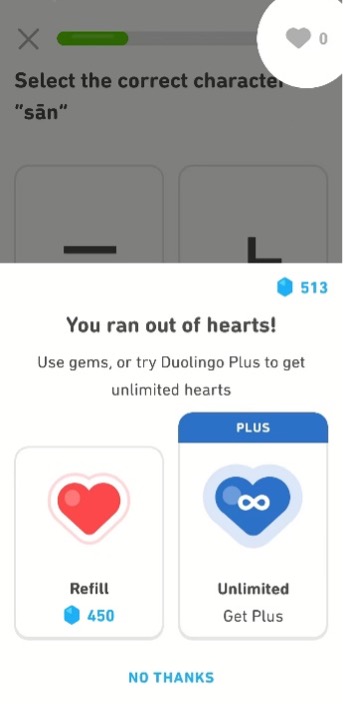 Verdict:
Overall, the whole Duolingo interface is very simple and clear. Everyone from children to the elderly can easily go ahead and learn. As a learning app, Duolingo is fun and not a complete waste of time. You can at least learn some basic Chinese characters and words through daily exercises on your phone. The lesson length and exercise types are apt. You won't feel very pressured during the practicing process. The gamification also eases the burden, especially when it turns into a daily assignment.
As a learner, you can definitely learn some basic knowledge from this app; however, if you want to be level up in Chinese, it won't be enough. You can learn as many basic words as you want through it. But as a language, the final goal is always communication. When you want to transform the words that you've learned into spoken language in a real-life situation, you might find that it's hard to be fluent. Especially for Chinese learning, there is no real writing and speaking practice.
And Duolingo often just drops a new character or word on you without much explanation of what it does. The whole process of learning is by rote memorization, which connects the pronunciation, character, and meaning with each flashcards exercise. There are no real instructions for the grammar rules and there is no background knowledge.
In this case, if you want to go further in learning the Chinese language, Duolingo Chinese is definitely not enough. But if you just want to get to know this language a little bit, or use it as a word review game, it's apt.
Supplement and Recommendation:
Learning through an app might be a beginning, but not the end. To help you really step into studying Chinese language, we have some supplementary learning materials for you when you are using Duolingo Chinese.
Recommendation
First, the Pinyin system:
You might find that even if you choose "learn from scratch" with Duolingo Chinese, you will still directly jump to character and pronunciation recognition without any instruction. So, to create a good foundation and better your understanding, you need to learn the Chinese pronunciation system — Pinyin, systematically. After this, all the exercises won't be a blind guess, but real practice.
Chinese Characters:
For almost all the Chinese learners, Chinese character is a real pain. So, a better understanding of the characters' background knowledge and construction process and methods are really necessary. There are some recommended character learning resources for you to choose.
Chinese grammar:
Grammar explanation is also lacking in Duolingo Chinese. You have no idea how the sentences are constructed and why they come that way. To produce more sentences naturally, you can't miss out on learning Chinese grammar. Here is exactly the grammar course you need.
Supplements
Since the whole Duolingo course just contains very basic words and the corresponding words are limited, you can't learn more through it. So, to better expand your vocabulary, you can check out our Vocabulary Training Camp, which is also designed topic by topic. It can be a great supplement for Duolingo's Chinese exercises.
Some ambitious learners might want to start learning Chinese in a formal and efficient way after trying the Duolingo app. To be fluent and get a deep understanding of this language, a professional tutor is the key. Here are some tips for you to choose a proper tutor. Or, if you want to learn by yourself, there are many online video courses available for you. You can learn anytime, anywhere, in a more structured way as long as you have a phone or computer.
Language learning is never an easy road. If you want to master a language in no time, hard work is the key. Furthermore, great learning materials and resources can also help you learn more efficiently and faster. There is an old Chinese saying: "工欲善其事,必先利其器", which means the mechanic, who wishes to do his work well, must first sharpen his tools. It's the same way with Chinese. Sharpen your learning tools first!