Learning Mandarin Online: Teacher Vs. School
Last updated: October 5, 2021
Are you learning Mandarin online? Nowadays, there is no need to explain the benefits of studying via Skype. However, "offline vs. online" is not the only alternative to choose from. Those who have already decided to learn Mandarin online may face the choice between independent online tutors and online schools.
Let's look at some of the features of both options. They may be considered as either advantages or disadvantages by different people in various situations.
Teachers
Price. There is an enormous price range for Mandarin online lessons from several to hundred dollars. Independent teachers are on the lower edge of the scale. On the whole, they offer a better value than online Mandarin schools.
Choice. On the web there are many online tutors. The choice is almost unlimited and you have an endless number of trial lessons (often free!) to find a teacher who is most suitable for your needs.
Flexibility. Independent tutors are usually more flexible about teaching methods and textbooks (in comparison with online Mandarin schools). You don't need to pass tests and be adjusted to a particular level (this sometimes happens when you enroll to an online Mandarin school).
Time. Teachers are just ordinary people who live their lives. They need a proper rest and sleep, so the number of available timeslots is always limited. Therefore, the time zone your teacher lives in is a very important criterion of choice.
Scheduling/Cancellation of Lessons. There exist a number of websites for learning Mandarin online where you can not only find a teacher but also schedule classes using an online calendar and other convenient tools (such as BuddySchool, iTalki or VerbalPlanet).
iTalki is probably the most well-known resource of this kind. This mighty "Kingdom of Language Learning" even has its own currency. The database of teachers is really big and prices are usually reasonable. The greatest advantage is that iTalki is a social network where students can share their experiences and opinions in a very convenient way.
VerbalPlanet is a very well organized website for learning Mandarin online with intuitive interface and good functionality. The people behind it ask all new candidates who would like to register as tutors to provide their certificates and diplomas as well as a brief letter about their previous work. This gives you confidence that the teachers on VerbalPlanet are properly educated and experienced. The disadvantage is that their services are relatively expensive and you have to pay a commission for booking classes.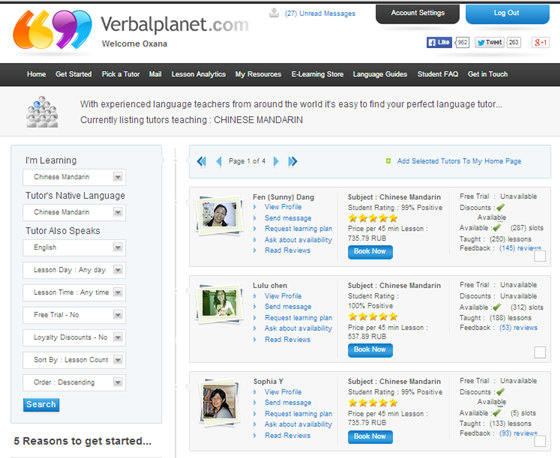 BuddySchool lets you browse tutors' profiles and schedule lessons without paying commission. Some people may find that the functionality and design is not as good as the VerbalPlanet's but for me, the most important thing is that everybody can suggest his/her services as of a teacher on this website. BuddySchool doesn't pre-moderate teachers' applications and that means you must check teachers' qualification on your own (credit ruelas). There are quite many out-of-usage teachers' profiles but you can really find "hidden gems" among this diversity of language professionals.
Tips for scheduling classes via these 2 and any other similar websites:
First check tutors' own website (sometimes tutors have packages and discounts on their own websites and in some case this will help to avoid commission).
Before booking classes contact a teacher via private message on the booking website or send him/her a direct email. It will allow you to check whether the teacher is available. Sometimes (actually quite rarely) they forget to update their schedules and free time slots. In the first email explain your goals and needs as well as your level.
Don't hesitate to arrange trial lessons and feel free to not schedule lessons with a teacher who doesn't suit your needs. Try until you find the best tutor.
Online schools
Price. It is not cheap, though you can reduce costs by buying package of multiple classes. In online Mandarin schools 6-month and 1-year packages are available (unlike of independent tutors who just can't guarantee they will be able to teach you for such a long period of time.)
Choice. Schools guarantee you that if your main teacher is ill (absent, resigned, etc.) you will be provided with a substitution. However, you normally can't choose the teacher by yourself. If you dislike him/her, the school will look for a new one but for obvious reasons you can't ask them to do this too often.
Flexibility. Only few schools are really as flexible about their teachers' methods as independent tutors. They usually recommend some particular textbooks and there is a good reason for this. Teachers are experienced in this and if you need a temporary substitution, a new teacher will be confident with how to teach you. You won't waste time on explaining what you have already learnt. It is easy to track the results of your studies and to scale your level for a new teacher.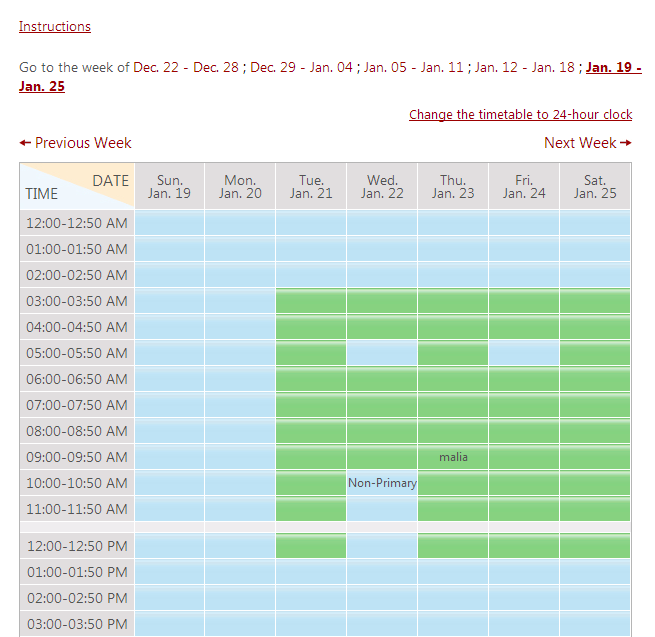 4. Time. Online Mandarin schools solve the problem of time zone difference by hiring teachers who live in different parts of the world and can teach you at any convenient time.
5. Scheduling/Cancellation of Lessons. Be aware that most online Mandarin schools selling packages require following their guidelines on how to schedule lessons. There may be a system of "fines" if you break the rules. E.g., your studying term may be temporarily suspended if you previously were absent for several classes. Sometimes these rules are neither clear nor fair so read carefully before booking!
Some of online Mandarin schools:
So what's your choice? Next time would you prefer independent teacher or online school? Share your opinion! We also welcome stories about your experience of learning Mandarin online from private teachers and schools on the web!