Hey everyone! 新春快乐!The Chinese New Year is upon us, bringing in the Year of the Goat and its time to celebrate with other Mandarin learners, including the little ones. Here is an interesting game that children can play to learn more about the Chinese holiday called MagiKid Nian.
Structure and How It Works
In review, instead of focusing on Chinese language and vocabulary, it is directed towards the folklore and customs surrounding the Spring Festival or Chinese New Year. This colorful game has mesmerizing graphics, which show that a lot of effort went into making this game eye catching.
The game follows the story of Nian, a monster that comes out in the darkness of the winter months to wreak havoc and bring bad luck to people. In order to drive away the monster when the New Year comes, you need to scare it away. The only things that Nian is scared of are the color red, loud noises and bright colors. For this reason, fireworks, drums and other items are used to scare off Nian. Your job is to scare off the Nian Monsters with the New Year power ups, without letting them get to you.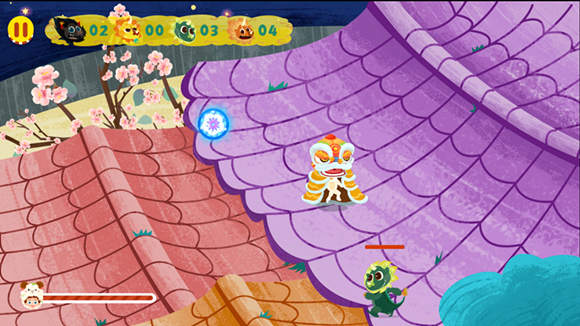 Besides the Story mode, there also is the Create mode, where you can record your voice singing a song, or use the game characters as puppets to your very own New Year's story.
This game has great playability, while being accessible to both children and adults. For the adults who played this game but were unchallenged, I recommend playing the Never ending Mode, which is like the Story mode, except there isn't a monster quota to defeat, hence "Never ending" mode.
Unfortunately, it does not teach actual vocabulary in Mandarin Chinese, neither characters nor pinyin. However, as stated before, it does explain the customs of the Chinese New Year, in a way that children who are not familiar to the religious and historical background of China, can start being introduced Chinese culture, as they learn the language.
Review
Thumbs Up:
● Colorful and adorable graphics
● Easy to understand and play→ can be played by even the youngest children
● Teaches the folklore behind the Spring Festival Customs
● Free game- no ads/ doesn't require email
● Works on all iOS devices
● Child lock keeps kids off parent's area.
Thumbs Down:
● Very few levels to play in Story Mode
● No actual Mandarin vocabulary or pronunciation
● Not available for Android App store
● No interesting for more advanced learners or experienced gamers
Verdict
The bottom line is that Magikid Nian is an excellent game to download for children during the Spring Festival! They will be entertained as they learn, with this beautiful game! Here is a summary of the good and bad about this game. Please take a look and give this game a try so your children learn about Chinese culture.
If you have any other questions about the APP or if you have tried using this APP and want to share your views on it, please comment below!