My Exploring Tour in Sexy Mandarin
Last updated: May 26, 2020
Several months ago, I happened to watch a video of Sexy Mandarin. That was the first time I saw this kind of sexy way of learning Chinese. It`s really a shock for me. Even today, Chinese people are not that open about sex; how do they teach Chinese in a sexy way?
As a Chinese resources collector, I searched more videos of it and watched them. I wondered if the Sexy Mandarin is just a stunt that attracts people`s attention. As you can see, the video is very short, and there are only two or three new words in one video. They just recently started their new program of online teaching. It seems that they are really doing something serious for teaching Chinese. But how does it work? Is the virtual classroom really very sexy? Is this kind of teaching style effective? With many questions, I contacted the Sexy Mandarin founder, Kaoru Kikuchi. She was very kind and arranged for me to be able to try two classes. Now, follow me to experience their Sexy Mandarin.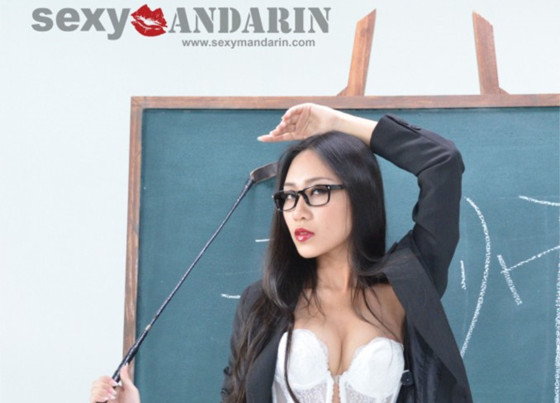 LESSON PROCESS
Step 1: Sign up and log in
Comment:
Well, because of Kaoru`s arrangement, I skipped this step, and got an ID directly with two lessons in my package. One was for a Group Lesson; the other was for a one-to-one Private Lesson.
Step 2: Choose your tutor and book lessons
Comment:
Once I had an ID for Sexy Mandarin, I just signed in and found the tutor page. I was surprised that there were so many beautiful tutors. I was arranged to have lessons with Wendy, but I think you can choose for yourself. Then I checked Wendy`s schedule. There were Class Date, Topic, and Level in the schedule. You could only book the class which is suitable for you, but not within one hour before the class. The system is very helpful and will send you an email to remind you of the booking details. And one hour before the class, you will get another email reminder. You will also find that their topics are very useful in daily life. I thought it was helpful for daily conversation.
Step 3: Group Lesson
Comment:
I was excited to prepare for the group lesson. I didn`t know how it was going to go, and thought my "classmates" in the same group might be surprised with my Mandarin. But when the group lesson started, I found that there was just one student in the classroom. That was me. It was a pity that I had no chance to see other students` learning states. And then I saw Wendy on the video and heard her greetings. But I found that she couldn`t see me or even hear me. I asked her to explain through the little chat box. She said it was the Group lesson. The students could not be seen or heard. We students could only see the whiteboard and communicate with the tutor in typing. Then Wendy started the lesson with the self-editing textbook. She kept reading and going through the lesson. Sometimes she asked me some questions to make sure I was following. To be honest, I had no idea if this kind of group lesson really made sense. So at the end of class, I asked Wendy if our private lesson kept the same style. If so, I didn`t want to continue then, because I`ve experienced the same thing. Thank god, she told me that the private would be different and we could talk and see each other. I looked forward to the private lesson!
Step 4: Private Lesson
Comment:
After the mute group lesson, I hoped my private lesson would be more interesting. I repeated step 1 and step 2 on the private lesson booking page. Then I started my private Chinese lesson. Unfortunately, I didn`t know why I still couldn`t talk or see the tutor. It was just like I was taking a lesson in the group classroom. Both of us tried several times to fix it, but failed. And Wendy said the one who was in charge of the IT part wasn`t there. She said it might be my internet connection problem. I was in China and she was in the Philippines. I didn`t know if it was really my problem. Then I asked her to continue teaching. We had more communication with each other through typing. The teaching style was just like she did in the group lesson. It was really a pity that I didn`t take a real one-to-one private lesson in the end. But after class, I received Wendy`s review email with the lesson`s words list.
Was the tutor dressed sexy to teach the class?
I know you are wondering that if I saw the tutor teaching on her bed with only bikini. Well, I have to say honestly, no! Wendy was just like a normal Chinese tutor, sitting before the computer and giving some explanations about the learning contents. Of course, she was very beautiful and patient.
About the teaching tool:
I wanted to mention the tool they used. It was different from some other online training schools which used Skype, Zoom, or Google Hangout. They used their own built-in program that was built into the website. It was called Wiz IQ. You just needed to click Join on their website, and then you could launch the tool and enter the classroom.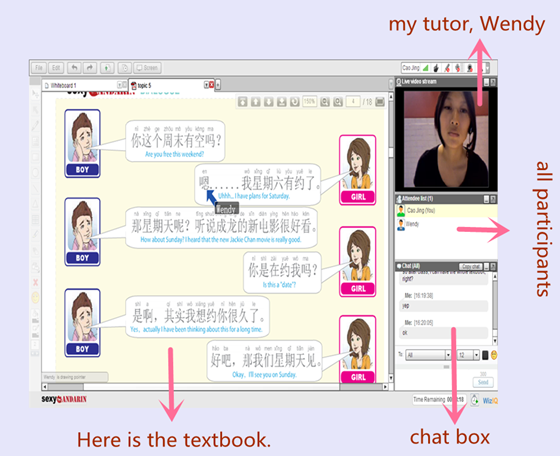 Q&A about the lessons
I experienced one group lesson and one private lesson of Sexy Mandarin. And then I did a review of the two lessons with the founder Kaoru Kikuchi. I couldn`t wait any longer with so many questions!
Q: Wendy told me her background is not as a professional Mandarin teacher. She was a model and she wasn't a Mandarin teacher. So, why did you hire them as teachers?
A: I found that idea through the hiring experience. Initially, we used to post things on Jobs DB and things like that to find teachers that are good looking, but that's really difficult. We found that pretty people, like models, can be trained to become really good teachers. And that's actually easier to convert than the other way around, because ugly teachers cannot become pretty teachers. You know, a lot of these models are really, really passionate about teaching, and they really enjoy it, as well. And I think teaching makes them look even more beautiful because they look more intellectual and they're not just a pretty face.
Q: I took your classes, both a group and a private class. And the students in the group class cannot talk. Why?
A: Well, the whole point was that, it's not fair for people to pay more to have private lessons if you have a group lesson and then they are also able to talk. There is the whole motivation of thinking: "Oh, I can't talk to her. Oh, I must really go up another package – get a better package – for me to talk to the person directly." It's like a teaser thing.
Q: How can you guarantee the class quality if students cannot talk to the teacher?
A: Well, these group lessons are only for people who are paying for the lowest package, right? So, the quality — you get what you pay for, basically. If you want to have a real lesson with the teacher, you better pay more, you know? It`s just like you can test out our services with group lessons. If you really like it, then you can always pay more and get lessons. Then you can also pay just for lessons. Individual lessons.
Q: And you know, when I took the lesson in my private classroom, I still could not talk to Wendy. I don't know why. Perhaps it's an IT problem, but Wendy could not fix it for me. And she still could not see me or talk to me. We could just type, and it was just like in the group lesson.
A: It's really unfortunate, because when these technical problems happen, it's always the student's internet. It's not the teacher's. Of course, the student is the customer, so we can't just say, "Oh, it's your fault," because they're actually paying customers, right? And that's the most difficult part that we have to battle. Fortunately, most of the students are from the US, and they all seem to have proper Internet. You know, Internet that we don't have that much of a problem with. But of course, initially, when we launched this service, we had a few problems. But now there seems to be not as much of a problem, because our students are regular students now. New students, if there was some technical problem, we always make sure that we give them an extra free lesson or, things like that to compensate for the loss of time for what we have given to them.
Q: And it seems that your real class is not that sexy. Is there any complaint from the students?
A: Oh yeah, some students ask the teacher to dress up in lingerie or some costumes and things like that. Yeah, we get that a lot, but we want to keep it a little bit more like an educational setting so that students actually do learn and stuff.
Q: So, are they polite? Did anyone make exorbitant demands?
A: Yeah, sometimes. We do get that sometimes, where we just make sure we protect the teachers if something really bad happens.
Q: Oh, I see. And I see you have your own learning materials. Is there anything special about the learning materials?
A: We really tried to get away from the whole textbook topics. I think they are just too boring. So we try to teach co-local Chinese. So, anything that is commonly used and is actually useful for you to learn. For example, you never learn in a Chinese textbook how to say iPhone. It's just something that pretty much everybody says in today's world. Or a Mac computer; these kinds of words that are not in a textbook.
Q: Who edits the teaching contents?
A: We have a bunch of editors from all over the world. We actually have new editors who are really passionate about Chinese as well from Columbia and Venezuela. I mean, it's really International. And we have a head editor who is from the US, and he also speaks some Chinese. He actually flew in. He found the Sexy Mandarin product really, really entertaining and useful, and he contacted me and said, "I really want to work for you," and then he moved to Asia for us. So, it's really interesting.
Q: You also offer several different teaching methods, like virtual classroom, daily group, and private lessons. How many parts do you have in all? Could you please introduce them?
A: We have private lessons, which is the one-to-one. We have group lessons. And we also have the self-study lessons. So, when you pay for, for example, a value pack, then you get to basically teach yourself, and then we have all the videos that are downloadable. All the PDF files – they can be downloaded to practice your Chinese. You can also review the clips. And then, we made the clips short so they can keep repeating. It's really important that you repeat many times so that you learn the language.