Chinese Made Easy for Kids (轻松学汉语)
Age range: 5-10 years old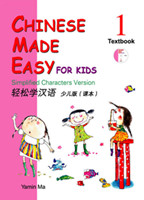 Chinese Made Easy for Kids includes four volumes. It focuses on developing children's listening and speaking skills. It starts from the very basics, which is perfect for children who are new at learning Chinese. The third and fourth volumes are also good for Chinese kids living overseas who are limited in speaking Chinese and are not immersed in a Chinese language environment.
In the first volume, children will learn topics including numbers, greetings, family members, colors, clothing, adjectives, parts of the body, houses, food, stationery, and animals. Colorful pictures make learning new words fun, and they will soon learn to engage in simple conversations.
In volume two, many topics will be repeated and expanded. More vocabulary will be added to topics such as family members, animals, colors, parts of the body, adjectives, and food. In addition, new topics will be covered, including addresses and telephone numbers, dates and the Chinese Zodiac, school and classes, time, countries and languages, daily activities, vehicles, and hobbies.
In the third volume, most of the previously mentioned topics will be repeated and expanded, including family members, adjectives, clothing, school classes, stationery, daily activities, food, animals, vehicles, and clothing. Only one new topic will be introduced: weather. Each lesson includes three or four short paragraphs, which can be connected into an interesting story to help children learn. The story will combine the vocabulary the kids have learned, giving them an excellent chance to practice their Chinese.
In the fourth and final volume, kids will learn how to put together the words they've learned into conversations of their own. Some new topics will be added, including seasons, hospitals, illness, toy stores, convenience stores, professions, feelings, and daily necessities. Short stories will be used to further accelerate children's learning.
Learn Chinese with Me (跟我学汉语)
Age range: 11-16 years old
Learn Chinese with Me series includes four volumes. It focuses on developing teenagers' listening, speaking, reading and writing skills. It starts at the very beginning, which is perfect for those who are new to the Chinese language. Each lesson is composed of several parts, including a warm-up reading exercise, new vocabulary words, listening practice, and help with learning how to write in Chinese. For teens who want to improve in all aspects of becoming fluent in Chinese, we recommend that you purchase the four workbooks, CDs, and listening materials that supplement the textbooks. This series can meet the needs of those teaching Chinese to English-speaking students from grades 7 to 12.
中文
This textbook series includes 12 volumes. It's created specifically for Chinese families with children living overseas who are in a Chinese language environment and can communicate fluently in Chinese in daily life. It focuses on reading and even more so on writing, and is ideal for those who want to improve their reading and writing skills in Chinese. If you want your kids to learn Chinese like native Chinese kids living in China, these textbooks are exactly what you need. You can download this textbook free now. Click here