Tiger Stories and Idioms in Chinese
Last updated: May 4, 2022
Once you have grasped the basics of Mandarin, you will discover that one of the most interesting, if complex areas to study is chengyu.
Chengyu are four character idioms which are derived from a powerful story. Studying chengyu can give us insight into not only the language of China, but its history and culture as well.
Many of the tales behind chengyu feature animals. They are much like folktales or fairy tales in other countries, except that they always have a saying to go with them. Here are my favorite three chengyu that all feature tigers!
骑虎难下 (Qí hǔ nán xià)
The Difficulty in Riding a Tiger
This is a really useful idiom! Literally, 骑虎难下(qí hǔ nán xià) means "ride tiger difficult to dismount".
The story is said to have originated in the Eastern Jin Dynasty. After the first emperor died the emperor's son, Sima Yan, became the ruler. But not long after Sima Yan took over, one of the leaders in his army, General Su, staged a coup and seized control of the capital. Two governors in the area learned of the rebellion and joined forces to overthrow General Su and reinstate Sima Yan. The area was plunged into a very long civil war.
After a series of disheartening defeats, one of the governors told the other that he thought it would be best to withdraw from the war. The other governor said, however, that they could not stop fighting at this point because the war they were fighting was like riding a tiger; if they got off now the tiger would just turn around and attack them. The governors strengthened their resolve and together vanquished General Su. Sima Yan was finally reinstated.
Today, saying 骑虎难下(qí hǔ nán xià) refers to a situation where quitting could have disastrous results. English speakers might say you have the snake by the tail.
Example 1:
He promised his friend he would complete this task, but now he is unable to do so. He can only do whatever he promised, and it is hard for him to quit.
他没有能力做这件事,但因为已经答应了他的朋友,现在只能硬着头皮继续做,真是骑虎难下。
(Tā méiyǒu nénɡlì zuò zhè jiàn shì, dàn yīnwèi yǐjīnɡ dāyìnɡ le tā de pénɡyou, xiànzài zhǐ nénɡ yìnɡ zhe tóupí jìxù zuò, zhēnshì qíhǔnánxià.)
Example 2:
I was just kidding him. To my surprise, he believed it. The result was a mess.
我只是开了一个玩笑,谁知道他居然相信了,最后弄得骑虎难下,难以收拾。
(Wǒ zhǐshì kāi le yí ɡè wánxiào,shuí zhīdào tā jūrán xiānɡxìn le,zuìhòu nònɡdé qíhǔnánxià, nányǐ shōushi.)
Example 3:
The company has not rented somewhere for the activity to take place yet, but the advertisement for the activity has already been displayed. It is a hard situation for the company.
公司还没有租到举办活动的场地,但是广告已经投放出去了,现在怎么办,真是骑虎难下。
(Gōnɡsī hái méiyǒu zū dào jǔbàn huódònɡ de chǎnɡdì, dànshì ɡuǎnɡɡào yǐjīnɡ tóufànɡ chūqu le, xiànzài zěnmebàn,zhēnshì qíhǔnánxià.)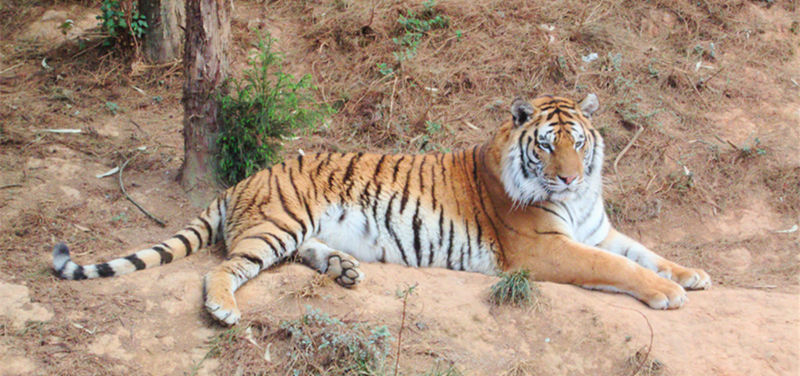 三人成虎 (Sān rén chéng hǔ)
Three People Become a Tiger
This next Chinese idiom is about the power that people can have if they all speak together.
To say 三人成虎(sān rén chénɡ hǔ) literally means "three people become a tiger." But without understanding the context and the tale behind this chengyu, it is a little tricky to understand – you might, for example, think that it refers to groups becoming violent!
This tale is said to date back to the Warring States Period. The emperor of the Kingdom of Wei was going on a journey to the Kingdom of Chao and was taking a minister named Pang Tsung with him. Pang Tsung was a very wise adviser, and as they were traveling, he asked the emperor some questions. One of the questions he asked was, "If a man came in to tell you that there was a tiger in the street, would you believe him?" The emperor replied certainly not.
Pang Tsung continued, "But if a second man came in to tell you that there was a tiger in the street would you believe it then?" The emperor replied that he would not believe, but he would halfway believe it.
Pang Tsung then asked, "If a third man came in yelling that there was a tiger in the street, then would you believe all of them?" The emperor said that yes, then he would believe there was indeed a tiger in the street.
Pang Tsung replied, "When I am gone I hope that you do not believe evil of me even if three or more people say bad things about me."
Nowadays, the wise chengyu 三人成虎(sān rén chénɡ hǔ) is used to warn against believing in idle gossip even if many people believe such a thing is true.
Example 1:
Rumors are terrible. The more people who spread them, the more complicated it is to tell reality from fiction.
谣言的可怕之处就在于三人成虎,说的人多了,就会让你弄不清真假。
(Yáoyán de kěpà zhīchù jiù zàiyú sānrénchénɡhǔ, shuō de rén duō le, jiù huì rànɡ nǐ nònɡ bù qīnɡ zhēnjiǎ.)
Example 2:
Obviously this isn't true. However, with all the rumors spreading, people believe that it did happen.
明明是没有发生过的事,但是谣言一传,就会三人成虎!
(Mínɡmínɡ shì méiyǒu fāshēnɡ ɡuò de shì,dànshì yáoyán yì chuán, jiù huì sānrénchénɡhǔ.)
纵虎归山 (Zòng hǔ guī shān)
Letting the Tiger Escape
If you say the phrase 纵虎归山 it can be directly translated as "released tiger returns mountain." But the meaning is not really about tigers escaping.
Long ago in the Eastern Han dynasty there was a civil war. A ruler named Cao wished to end the war by befriending a warlord named Liu and fighting together. However, Cao's adviser said that Liu must be vanquished and that allowing him to go free was like releasing a tiger back to the mountain.
Cao did not heed this advice and decided to befriend Liu. Sure enough, after the war was finished, Liu later came back and fought against Cao. Cao's adviser, who saw Liu's true tiger-like character, was proved correct.
If you say 纵虎归山(zònɡ hǔ ɡuī shān)today, you are referring to someone allowing something to happen which might have bad consequences in the future.
Example 1:
Letting the thief go is like 纵虎归山, because he might steal again.
你把小偷放走就是在纵虎归山,以后他也一定会继续偷东西!
(Nǐ bǎ xiǎotōu fànɡ zǒu jiùshì zài zònɡhǔɡuīshān, yǐhòu tā yě yídìnɡ huì jìxù tōu dōnɡxi!)
Example 2:
This is his second time he embezzled the company fund. You should call the police, otherwise, you are 纵虎归山.
这次他又挪用公款,你一定要报警,否则就是纵虎归山。
(Zhècì tā yòu nuóyònɡ ɡōnɡkuǎn,nǐ yídìnɡ yào bàojǐnɡ, fǒuzé jiùshì zònɡhǔɡuīshān.)
If you know more idioms about tiger, please share them with us in the comments below!