Supercharge Your Learning with These 15 Mandarin Chinese Podcasts
Last updated: September 29, 2023
Podcasts have become increasingly popular over the past decade, and they cover a wide range of topics, including language learning. Have you ever thought about using podcasts to learn Chinese? They offer more than just listening practice; they can help with pronunciation, vocabulary, and grammar.
Let's look at a few of the benefits of using podcasts for learning:
Relevance: Podcasts often focus on topics that interest you, which can make the learning experience more engaging compared to traditional textbooks.
Portability: You can download episodes and listen to them while jogging, commuting, doing chores, running errands, or whenever it's convenient for you.
Affordability: Many podcasts are free or offer free episodes and additional resources.
With many Chinese learning podcasts available, each with its own unique characteristics, how do you choose the right one for you? Instead of trying out each podcast to find the perfect fit, we've reviewed some of the most popular ones to help you decide.
Here are the best Mandarin Chinese learning podcasts:
Topical Podcasts for Learning Chinese
#1 Mandarin Bean
Mandarin Bean is an excellent online resource that offers Chinese podcasts suitable for learners of all levels. The podcasts are categorized by HSK level, and you can explore various tags like business, culture, food, history, news, travel, and lifestyle. This diversity allows you to find content that matches your interests.
Mandarin Bean's podcasts follow a simple format with no hosts or teachers. You listen to stories or dialogues and have access to transcripts in simplified characters, traditional characters, and pinyin. They also provide English translations. One valuable feature is the vocabulary list, which includes key words from the podcast, and you can easily create Quizlet flashcards from these words.
These podcasts are especially useful for independent learners looking to enhance their listening and reading skills. Mandarin Bean helps you acquire vocabulary and grasp grammar within real-life contexts, similar to immersive learning. Instead of traditional teaching methods, these podcasts empower you to teach yourself and prepare for real conversations.
Click and Listen to Mandarin Bean here.
#2 Mandarin Pod
Mandarin Pod is made by a Chinese language school in New York City called Sishu Mandarin. The man running the show is Zhou Tian, who is also the brains behind the school. In each episode, he brings in one or two other teachers from the school to chat about all sorts of stuff, meaning that the podcast has a more casual tone.
These episodes are around 30 minutes long, which I find is just the right amount of time. They pick topics that hit close to home, like what it's like being an international student in the Big Apple or giving their take on the live-action Mulan movie.
The best part is, since they're all teachers, they know how to talk in a way that is comprehensible. So, you can actually understand what they're saying. Although, be warned, the topics might go over the heads of absolute beginners.
There are only 14 episodes in this series. I think that's a plus because they don't stretch things out, and each episode keeps you hooked. So, give it a listen if you're into learning Mandarin or just want to hear some interesting chats.
Click and Listen to Mandarin Pod here.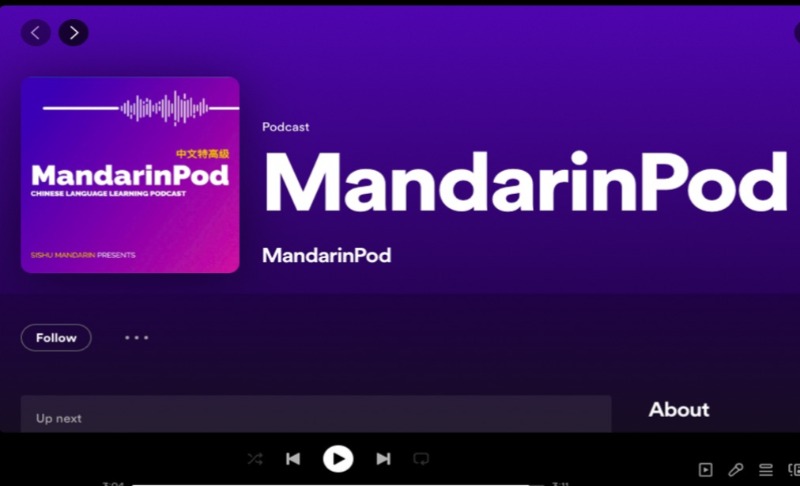 #3 Chill Chat
Welcome to another engaging podcast designed to boost your language skills! In the Chill Chat series, they follow a more traditional format, where a Chinese teacher teams up with an American Chinese learner. You'll notice some peppy music kicking off each episode, setting the mood for an exciting language learning journey. The conversation pace is brisk yet manageable, and English is thoughtfully used to clarify key points throughout the episodes.
What sets this podcast apart is the hosts' contagious high energy, making the entire series an invigorating experience. To help learners gauge their level, each episode is tagged with the corresponding Chinese proficiency level. However, it appears that this series primarily caters to those at the lower intermediate level and above.
One of the standout features of this podcast is its diverse range of topics. The hosts dive into everything from essential grammar points to must-have apps for navigating China. If you're planning a trip to China, this podcast is a gem, as it's packed with invaluable tips and advice, such as how to smoothly check into a hotel.
In terms of duration, each episode varies, offering flexibility to fit into your schedule, with runtimes spanning from 10 to 25 minutes. Whether you're on the go or enjoying a leisurely afternoon, this podcast is a fantastic resource to enhance your Chinese language skills.
Click and Listen to Chill Chat here.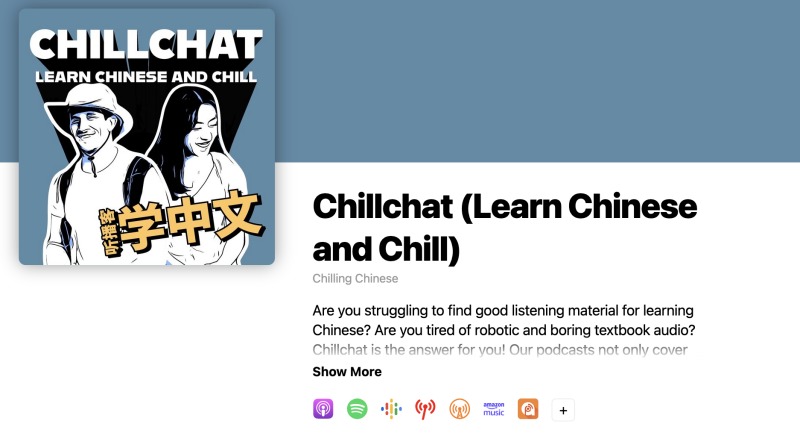 #4 Tea Break Chinese
You can find the Tea Break Chinese podcast on both YouTube and Spotify, but I recommend visiting the website for easy access to transcripts. As you engage with the content, you'll notice that hovering over characters and grammar points will provide you with helpful explanations, greatly enhancing your understanding.
The host of this podcast, Nathan, hails from Shanghai and now calls France his home. Tea Break Chinese is his brainchild, and it boasts a straightforward structure, complete with delightful music and a concise introduction at the beginning of each episode. Nathan isn't just a podcast host; he's also a passionate language enthusiast who loves drawing parallels between Chinese and European languages. Throughout the show, he'll take you on a journey through his experiences living in China and delve into thought-provoking global topics.
One of the standout features of Tea Break Chinese is its steady pacing, which makes it highly accessible when used in conjunction with the transcripts. While beginners might need to invest a bit more concentration, this podcast is an excellent choice for lower intermediate learners and beyond. Plus, each episode clocks in at a manageable 10-15 minutes, fitting seamlessly into your daily routine.
Click and Listen to Tea Break Chinese here.

#5 Talk Chineasy
Talk Chineasy is an excellent option for busy individuals. They release short daily lessons designed to help learners at all levels gradually expand their vocabulary and understanding of Chinese culture. These podcasts are hosted by ShaoLan and feature various guest stars, whose profiles are available on their website.
While these podcasts introduce new information in each lesson, they are not meant to be complete courses. They provide concise and engaging lessons, making them perfect for learners looking to gain extra practice or learn common phrases for various situations. The presence of guest stars speaking Chinese helps you get used to different Chinese accents, preparing you for interactions with native speakers. These episodes serve as valuable supplements, allowing you to incorporate daily Chinese practice into your routine, aiding in vocabulary retention, listening and speaking practice, and cultural understanding.
Talk Chineasy is especially suitable for those on the move, as it is accessible on various platforms, including Spotify, Apple Podcasts, and Soundcloud. It is an excellent choice if you enjoy listening to podcasts during your commute or workouts, as you can easily access it on your mobile device. Their website provides access to the latest lessons, allowing you to explore topics that align with your interests or complement your ongoing studies.
Click and Listen to Talk Chineasy here.

Chinese Podcasts for Beginners
#1 ChinesePod
ChinesePod offers a variety of resources across different platforms, including Soundcloud and Spotify. While their podcasts are divided into main levels, their playlists are somewhat disorganized, requiring scrolling to find the first episode. Furthermore, sublevels within the playlists lack any order.
I explored the intermediate playlist, where you'll typically find two hosts – Jenny, a Chinese teacher, and an American named Ken. The podcasts maintain a casual conversational tone without a strict structure. After playing an audio clip, Ken translates the sentences, and both hosts dissect word definitions and grammar, focusing on tones. They also provide additional grammar examples not covered in the audio segment. However, some topics may seem less relevant, like discussing New York City without firsthand experience. Each episode is around 15 minutes long, offering a good pace for learners.
Click and Listen to ChinesePod here.

#2 ChineseClass101
ChineseClass101 is one of the most popular and accessible Chinese podcasts available. You can access it on their website and app, which works on Android, Apple, and Kindle Fire devices. When you sign up, ChineseClass101 helps you determine your proficiency level and gives you access to a library of lessons tailored to your needs. You can explore various course playlists covering topics like conversations, reading and writing, vocabulary, grammar, and culture.
Each lesson starts with a dialogue played at regular speed and then at a slower pace. The hosts dive into the dialogue, offering detailed explanations of the vocabulary and grammar. These explanations are valuable, addressing specific nuances in the language, such as idiomatic expressions and tones. Despite their educational nature, these podcasts maintain an engaging and friendly atmosphere, making you feel like you're chatting with friends.
Click and Listen to ChineseClass101 here.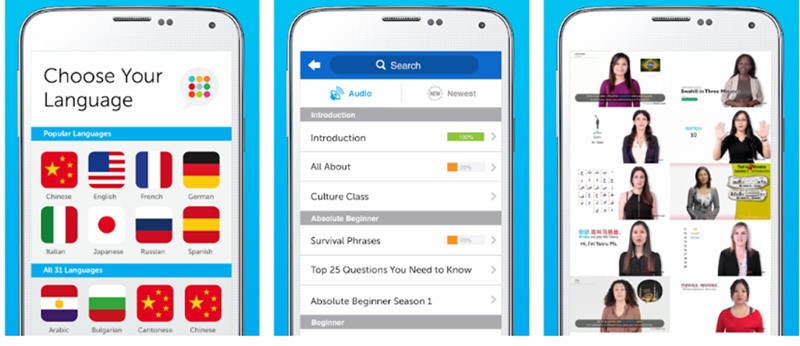 #3 Learn Chinese with CoffeeBean Chinese
If you're eager to start your Chinese learning journey, check out CoffeeBean Chinese, available on Spotify. This podcast is hosted by Mark, a fellow learner, and Cristal, a seasoned Chinese teacher. The pace here is deliberately slow, creating a relaxed conversational atmosphere. What sets this podcast apart is Cristal's dedication to explaining both the meaning and direct translations of the vocabulary, which is a big help for beginners. However, this thorough approach might suit those who prefer a more leisurely learning experience. The content is practical and relevant, although currently they only offer podcasts for beginners. In each episode, you'll find detailed breakdowns of grammar points and new vocabulary. Mark provides translations and literal meanings, a valuable feature, especially since study notes come at an additional cost. Expect longer episodes compared to other podcasts, averaging around 23 minutes. You can access CoffeeBean Chinese on Google and Apple Podcasts besides Spotify.
Click and Listen to CoffeeBean Chinese here.
#4 Melnyks Chinese
Melnyks Chinese is a comprehensive podcast tailored for serious learners. Hosted by a single teacher, Serge Melnyk, it adopts a more structured approach similar to a classroom setting. However, it remains a valuable resource for students seeking gradual improvement in fluency. Melnyks Chinese podcasts are designed to build upon vocabulary and grammar from previous lessons, with earlier lessons being easier and later ones becoming more challenging. The concept is to allow beginners to start with lesson 1 and progress to a point where they can confidently handle everyday situations in Chinese.
Each lesson lasts around 20 minutes and covers various daily scenarios or topics. They start with an introduction to the lesson's vocabulary, with each word repeated multiple times to aid memorization and correct pronunciation. Next, a situational dialogue is presented, repeated in Chinese and later analyzed in English. As the host reviews the dialogue, he explains critical grammar points and demonstrates how vocabulary functions within that context. This approach is particularly useful, as it introduces words before showing how they can be used to construct meaningful sentences.
Click and Listen to Melnyks Chinese here.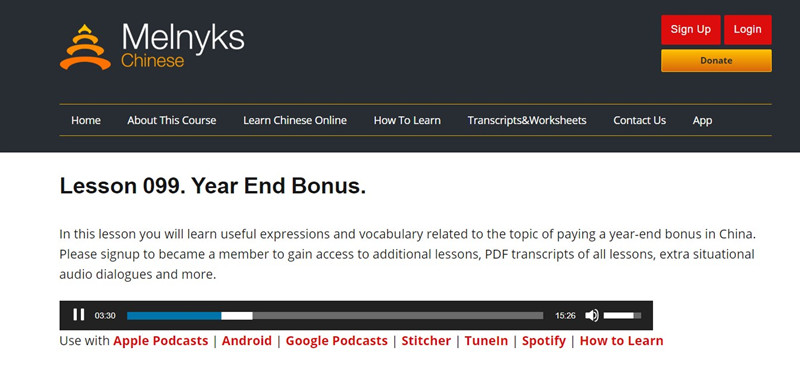 #5 I Love Learning Chinese
"I Love Learning Chinese" is designed for busy individuals seeking short daily lessons. Their website and iTunes offer several hundred free lessons, divided into six levels, each with about 25 lessons. Similar to Melnyks Chinese, this series is designed for beginners to start from level 1, episode 1, and progress through level 6, episode 25. Review lessons are also available to revisit key points from previous episodes.
Each lesson lasts 10-15 minutes and focuses on specific grammar concepts or vocabulary terms. The host, Ashley, begins each lesson with an overview of relevant vocabulary, making it easy to follow along and practice pronunciation. The lessons include short, straightforward dialogues that apply the newly introduced vocabulary and grammar concepts. "I Love Learning Chinese" is ideal for learners who appreciate repetition of vocabulary and want to understand Chinese grammar in practical contexts.
Their website offers supplementary resources tailored to beginner, intermediate, and advanced learners. These resources include PDF notes, flashcard reviews, and writing exercises. For absolute beginners, the Level 0 lesson is invaluable, teaching pinyin pronunciation and tone comprehension. The podcast lessons and online materials are a great fit for beginners looking to dedicate just 15 minutes a day to learning Chinese.
Click and Listen to I Love Learning Chinese here.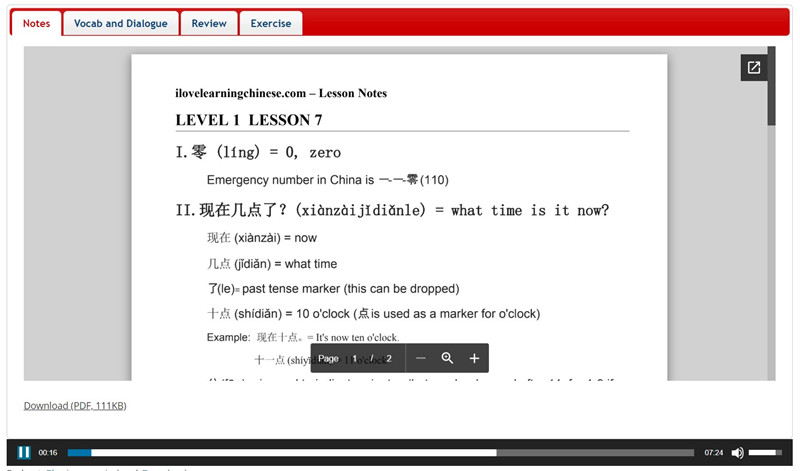 #6 Mandarin Monkey
If you prefer longer podcasts, Mandarin Monkey's Chinglish podcast may interest you. With over 100 episodes, each lasting over an hour, these podcasts are available on Soundcloud, Youtube, and Apple Podcasts. Their Youtube channel also offers supplementary listening practice videos.
Differing from the typical lesson format, this podcast features a fluid conversation between two hosts, often switching between Chinese and English. Their approach mirrors that of bilingual books, promoting learning through immersion and comparison. Instead of providing direct Chinese-to-English translations, the English context helps you understand the Chinese dialogue. This approach offers a more relaxed alternative to podcasts that exclusively use Chinese, making it suitable for multitasking during chores, errands, or exercise.
To support their podcast, Mandarin Monkey offers a Patreon with three subscription tiers: $5, $10, and $25. Each tier provides different benefits, with higher tiers also including perks from lower ones. The entry tier gives you access to their Whatsapp discussion group. The mid-tier offers invitations to weekly hangout sessions for practicing Chinese, while the top tier includes a complimentary private lesson each month. Mandarin Monkey emphasizes building a community of Chinese learners, fostering an ideal environment for practicing and connecting with fellow learners.
Click and Listen to Mandarin Monkey here.

Podcasts for Learning About Taiwanese Culture
#1 Learn Chinese the Taiwanese Way with 台味中文
This solo venture podcast is currently free and can be found on various platforms like Youtube and Spotify. The host describes himself as an "online language tutor." While this podcast doesn't explain vocabulary, it's delivered at a comprehensible pace and uses highly relevant and useful language. Keep in mind that it lacks background music, which some might find disengaging.
However, accompanying transcripts provide assistance, displaying characters and grammar used. Note that there's no English spoken, which may feel like being thrown into the deep end. But the good news is that each episode is relatively short, around 10-15 minutes, making it manageable.
Click and Listen to 台味中文 here.

#2 Learn Mandarin in Mandarin with Huimin
This Taiwan-based self-hosted podcast offers a music introduction to set the tone. The host, Huimin, provides key vocabulary in the episode descriptions. Topics start with basics like self-introductions and describing interests, without translations or grammar explanations. It's a light and easy-listening podcast suitable for multitasking, but the speaking speed can be inconsistent, which may not be suitable for all learners. Episodes typically range from 10 to 15 minutes. Huimin caters to different levels of learners, labeling episodes with vocabulary levels. As the series progresses, you'll learn more about Taiwanese culture, enriching your language and cultural knowledge.
Click and Listen to Learn Mandarin in Mandarin with Huimin here.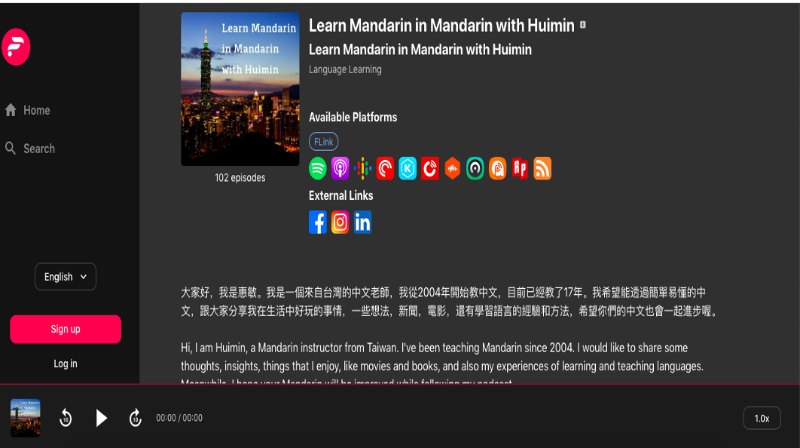 #3 Haike Chinese 还可中文
This podcast breaks from the traditional learner-teacher structure, featuring two Taiwan-based friends, Li Yi and Shian Shian. This podcast is available on Apple Podcasts and Spotify and offers corresponding transcripts on their website. Their friendly dynamic makes listening more engaging, feeling like a daily conversation between language partners. However, this podcast is more suitable for post-beginner learners due to the somewhat complex topics, such as the Olympics and favorite films. Despite this, it remains light and easy to follow, thanks to a good pace. You'll also learn about Taiwanese culture, from convenience stores to local customs. Early episodes are around 10 minutes, while later ones extend to about 30 minutes.
Click and Listen to Haike Chinese here.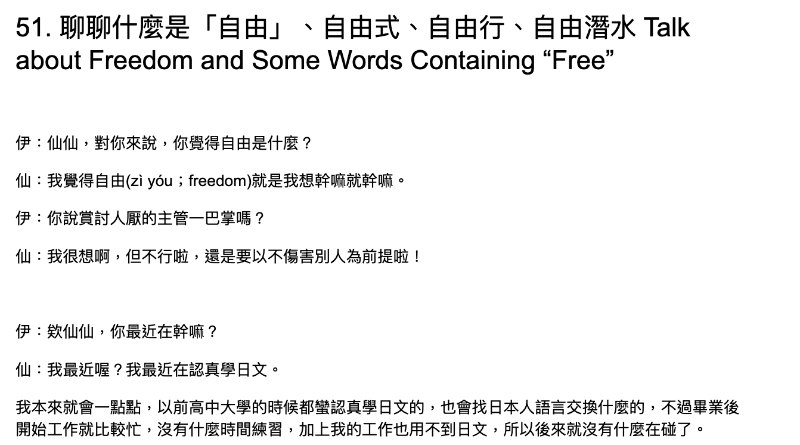 #4 Talk Mandarin Chinese with Abbey
This Taiwan-based podcast, available on YouTube and Apple Podcasts, is designed for intermediate and advanced learners. Host Abbey speaks at a faster pace, tackling complex and engaging topics. Episodes up to number 65 include free worksheets that explain new vocabulary and grammar in detail. Beyond that, you'll need to sign up on the website's Patreon to access the worksheets. While the podcast is enjoyable, I wish the experience lasted longer, as each episode is typically just under 10 minutes.
Click and Listen to Talk Mandarin Chinese with Abbey here.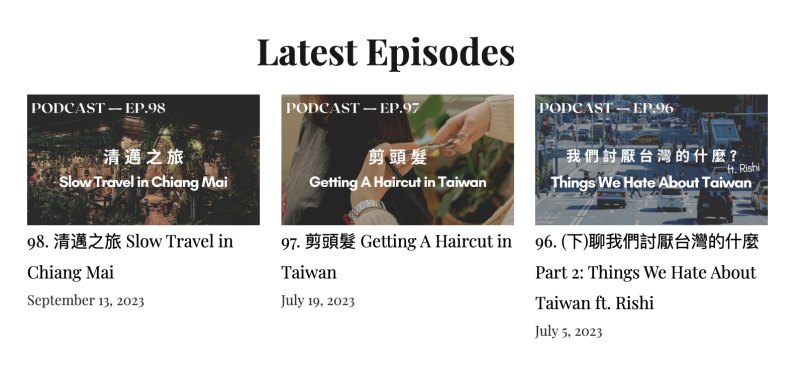 Conclusion
With so many diverse options, there are sure to be some podcasts that fit your unique learning needs. There are podcasts that act like complete courses, such as ChinesePod, Melnkys Chinese, and Coffee Break Chinese. Then there are also podcasts that act as a supplement. They help you expand your Chinese knowledge with short daily lessons, like Tea Time Chinese and Haike Chinese. If you want to try an immersion-based approach, consider Mandarin Bean and Mandarin Monkey. With so many wonderful options, it can be hard to choose just one.
You don't have to stop with just one podcast though. You can use one as your main course and another as a supplement. For example, if you listen to ChineseClass101 to learn HSK material, you can also use Mandarin Bean for extra listening practice on topics that you are interested in. Chinese is a complex language, and it can be helpful to learn from multiple sources to truly understand the vocabulary and grammar. Plus listening to multiple hosts speak Chinese will improve your listening comprehension significantly and prepare you to have conversations with native speakers.
With the surge in podcast popularity, many options have emerged on various platforms like Apple Podcasts, Spotify, YouTube, or individual websites. Each offers a unique approach, so you're sure to find one that suits your level and pace. Podcast series provide an excellent way to explore subjects of interest, such as learning Mandarin Chinese. Happy listening and learning!