TOP 5 Mandarin Chinese Learning Podcasts : Review and Comparison
The verbal component of language is very important. With language instruction podcasts, you can improve you pronunciation and boost listening comprehension skills.
Here are 5 reasons to use podcasts for learning Chinese languages:
Podcasts are more likely to addresses your niche interests than a textbook.
Podcasts are mobile and portable. You can download a podcast to your mp3 player and enjoys all the benefits of its functionality.
You can listen to Chinese podcasts when jogging, travelling, commuting – actually, anytime, anywhere!
Podcasts are often free. There is vast majority of podcasts for Mandarin learners. Some are completely free. Others offer a great amount of free stuff.
Podcasts are just trendy.
5 Best Mandarin Chinese Podcasts:
Melnyks
Melnyks Chinese provides 250+ easy-to-follow lessons in Mandarin. Each lesson in this podcast has a topic. The content is very relevant. There are many useful words and phrases to learn. Melnyks Chinese is one of the most overwhelming learning courses but don't expect a lively dialogue.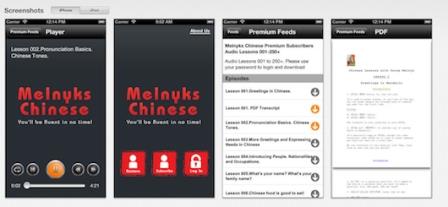 This may either be an advantage or a disadvantage depending on your studying goals and personality.
Unfortunately, full explanations and grammar notes are not available in the audio lessons. To read them, you need to download a transcript.
Mandarin Bean
Mandarin Bean is a total FREE podcast site that aims to help you practice and master your Mandarin reading and listening. Through the site, your learning experience is more like listening to the radio, but with the added benefit of visible Chinese characters and pinyin.
Mandarin Bean contains lessons which are marked by difficulty ranging from beginner to advanced. Each lesson is also labelled from HSK level 1 ~ 6+. The lesson topics are interesting covering daily conversations, Chinese culture, the latest trends, funny stories, and life in China, and etc. Additionally, You can easily turn the pinyin on and off and switch Chinese characters between Simplified and Traditional.
Chineseclass101
Chineseclass101 is another example of a well-structured podcast Mandarin course. The number of lessons is pretty big. They also have a flexible policy of access to their new podcasts, e. g., all newly published lessons are free for 3 weeks!
Chinesepod
Chineseclass101 is a good choice by all means but there is also Chinesepod which has even more interactive exercises for learning new words and phrases. Podcast lessons are sometimes quite short, especially in comparison with Melnyks Chinese. However, they contain the most up-to-date lexical items. Grammar tips, dialogues, discussion summary and multiple exercises are integrated in the interface so it is very easy-to-browse.
In ChinesePod the amount of Mandarin speech in each lesson is increased step-by-step. Even lessons for Upper-Intermediate students have some explanations in English which is quite helpful! Advanced students may enjoy Mandarin-only podcast lessons.

Popupchinese
Finally, there is an amazing podcast called Popupchinese. Here you can not only learn the language but also learn more about current political situations, social problems and other news from China. The discussions are vivid and lively (credit trisha). However, you may find lack of interactive exercises and lesson transcripts.
There are my Top 5 Chinese Learning Podcasts. Do you have any other recommendations? Share your experiences with us!