TOP 7 Mandarin Chinese Learning Podcasts: Review and Comparison
Last updated: March 7, 2023
Podcasts are one of the biggest trends of the past decade. There are podcasts about nearly every subject, and that includes learning languages. Have you ever considered using podcasts to learn Chinese? They can help you with more than just listening comprehension; they can also help you with pronunciation and teach you new vocabulary and grammar.
Here are some other benefits of learning with podcasts:
Podcasts are more likely to cover topics that interest you than a textbook
Podcasts are portable. You can download episodes and listen to them while jogging, commuting, doing chores, running errands, whenever you want
Podcasts are often free or have some free episodes and resources
There are dozens of Chinese learning podcasts out there, and they're all so different. How do you choose the right one for you? Instead of trying out every podcast to find the right one, we reviewed some of the most popular podcasts to help you find the right fit.
7 Best Mandarin Chinese Learning Podcasts:
#1 Mandarin Bean
Mandarin Bean is an excellent online resource that publishes Chinese podcasts for learners of all levels. While the podcasts are divided by HSK level, you can also search through a variety of tags, including business and economics, culture, food, fun, history, news, travel, and lifestyle. It's easy for users to find content that is relevant and interesting to them.
Mandarin Bean's podcasts have a straightforward format; there are no hosts or teachers. You simply listen to a story or dialogue, and you can view the transcript in traditional characters, simplified characters, and pinyin. There is also an English translation below. One useful tool is the vocabulary list, which includes the most important words used in the podcast, and you can create Quizlet flashcards of the vocabulary words with just one click.
These podcasts are excellent for independent learners who want to supplement their studies with more listening and reading practice. Mandarin Bean helps you learn vocabulary and grammar in context, so it is very similar to learning through complete immersion. Instead of teaching students like a traditional course, these podcasts help students teach themselves and prepare them for real-life conversations.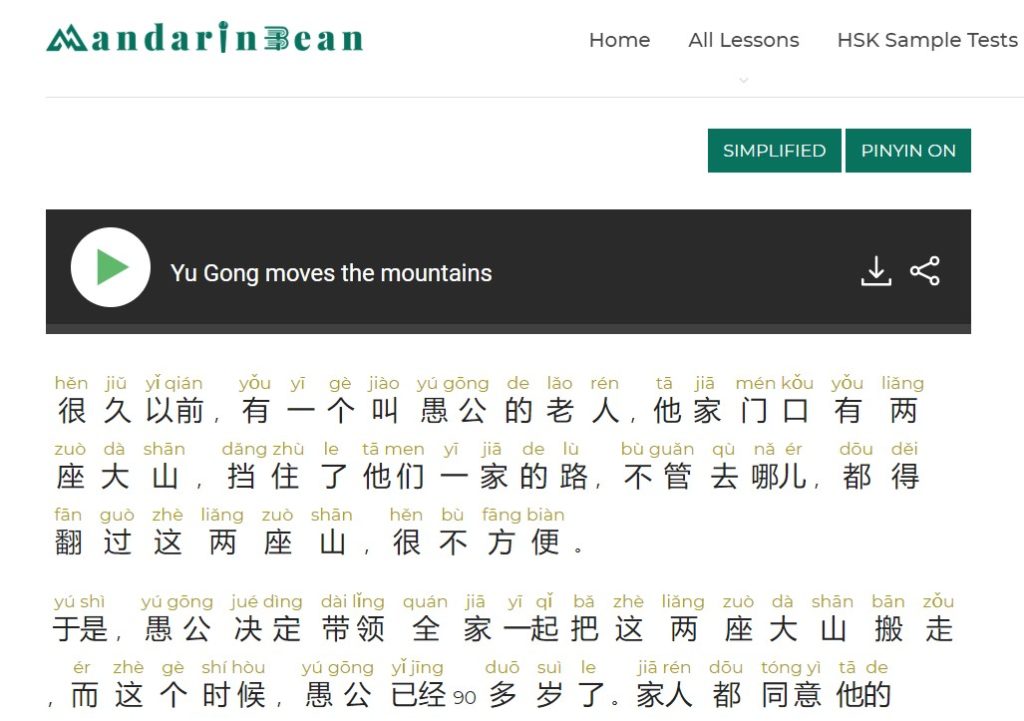 #2 ChineseClass101
ChineseClass101 is more than one of the most popular Chinese podcasts; it is also one of the most accessible. ChineseClass101's podcasts are available both on their website and on their app, which is available for Android, Apple, and Kindle Fire. When you sign up, ChineseClass101 helps you determine your level, and then they give you access to a complete lesson library for that level. You can listen to dozens of course playlists covering different topics. You can also sort by lesson types, such as conversation, reading and writing, vocabulary, grammar, and culture.
Each lesson begins with a dialogue, which is played once at normal speed and then repeated at a slower speed. The podcast's hosts review the dialogue in detail, providing in-depth explanations of the vocabulary and grammar points. Their explanations are helpful because they address specific nuances in the language, such as idiomatic expressions and special tones. While these podcasts are educational, they feel fun and casual because the hosts are friendly and charismatic. You feel like you're chatting with friends instead of being lectured to. ChineseClass101 also offers different levels of premium access, costing from $8 to $47 per month. Premium members not only have access to the lesson audio, but they can also view and download PDF lesson notes, vocabulary lists, and complete lesson transcripts. All these supplementary materials truly turn these podcasts into a complete Chinese course. ChineseClass101 aims to help its users with all areas of Chinese, instead of just listening comprehension. This comprehensive approach makes this podcast ideal for students who are looking for a complete and in-depth lesson.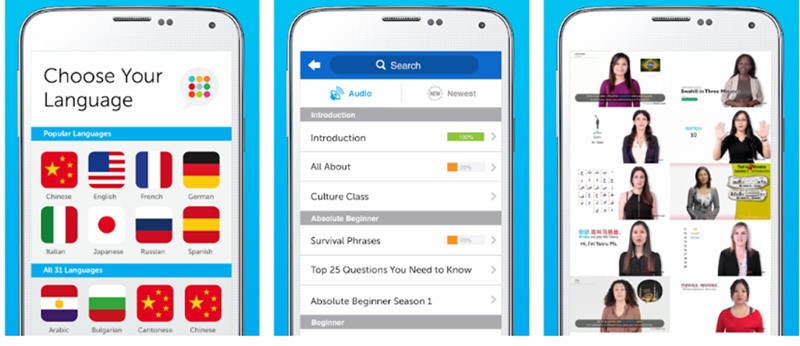 #3 Talk Chineasy
Talk Chineasy is one of the best podcasts for busy people. They publish short, daily lessons that help listeners of all levels slowly grow their vocabulary and knowledge of Chinese culture. These podcasts are hosted by ShaoLan and a variety of guest stars, whose bios are all available on their website.
These podcasts do teach you a bit of new information in each lesson, but they aren't a complete course. Their lessons are short and sweet. They're ideal for students who want some additional practice or want to learn more common phrases for a variety of different situations. ShaoLan's guest stars help you get used to hearing different people speak Chinese, which helps prepare you for talking to native speakers. These episodes are a great supplement and can help you get in a bit of daily Chinese practice, which helps you retain new vocabulary, practice listening and speaking, and learn more about Chinese culture.
Talk Chineasy is an ideal podcast for people on the go because it's available on most popular platforms, including Spotify, Apple Podcasts, and Soundcloud. It is perfect if you like to listen to podcasts while commuting or exercising because you can listen to it on your phone. Their website allows you to access all the latest lessons, and you can also sort by topic to find the episodes that interest you the most or relate to what you're already learning.

#4 Melnyks Chinese
Melnyks Chinese is an in-depth podcast for serious students. Hosted by one teacher, Serge Melnyk, it feels less like a conversation and more like a class, but it is still an excellent resource that helps students progressively improve their fluency. Melnyks Chinese podcasts are designed to build on the previous lessons' vocabulary and grammar; the earliest lessons are the easiest, and the latest lessons are more difficult. The idea is that beginners can start with lesson 1, and by the time they finish listening to all the episodes, they'll be quite fluent and able to handle most daily situations in Chinese.
Each lesson is about 20 minutes long and covers a different daily situation or topic. They begin with an introduction to all of the lesson vocabulary, and each word is repeated several times to help you remember them and learn the proper pronunciation. The next part is a situational dialogue, which is repeated a couple of times in Chinese and then broken down into English. As the host reviews the dialogue, he explains the important grammar points and how the vocabulary works in that context. His approach is helpful because he first introduces words and then shows you how to use them as building blocks to create meaningful sentences.
Much like ChineseClass101, these podcasts can be used as a course because all the lessons are packed with a lot of information. In fact, it can be very helpful to listen to each lesson multiple times because there are so many new words to learn. When you're listening to these lessons, you're encouraged to speak along with the dialogue and repeat the vocabulary words out loud to practice pronunciation. Overall, Melnyks Chinese is an excellent way to practice both listening and speaking. The first 100 lessons are available for free on Spotify and Apple Podcasts, but their premium resources are only available on their website and app (for android and iPhone). If you want to access all 276+ audio lessons and PDF transcripts and worksheets, premium access costs $97 per year or $77 per 6 months.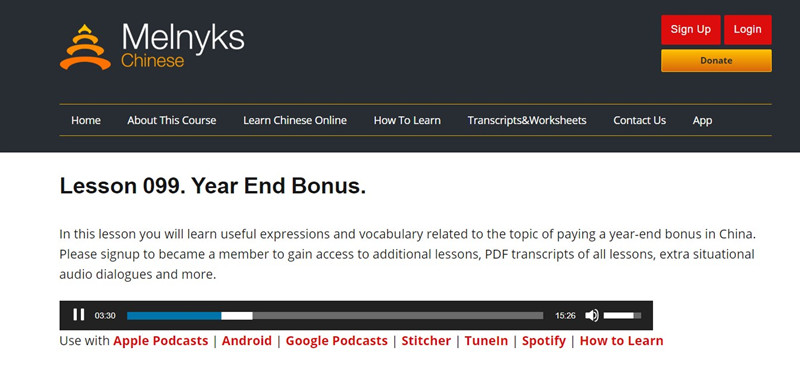 #5 Popup Chinese
Popup Chinese is a discontinued podcast, but while they aren't posting any new content, you can still benefit from all the lessons archived on their website. There are hundreds of 10-minute episodes for all levels, from absolute beginner to advanced. Even though they're broken down by level, Popup Chinese covers more niche topics, so you should be able to find episodes that match your personal interests and help you learn conversational Chinese.
Each podcast is hosted by two people, one who speaks mainly Chinese, and one who speaks mainly English. They have a similar structure to ChineseClass101 and Melnyks Chinese. They begin by reading a dialogue a couple of times, and then they break it down sentence by sentence. The hosts also discuss important cultural points and relevant vocabulary.
The Popup Chinese archive is available for free on their website, but unfortunately you can't download the episodes without a premium account, which costs $100 per year. A premium account also gives you access to transcripts and lesson notes, but keep in mind that they won't publish any new content. You will only have access to the extra content for existing episodes. The free episodes are another great resource for listeners who enjoy the ChineseClass101 podcasts because they are so similar in structure but cover different topics.
#6 Mandarin Monkey
If you're a fan of long podcasts, Mandarin Monkey's Chinglish podcast is for you. They have over 100 episodes that are all over an hour long. All of the episodes are available on Soundcloud, Youtube, and Apple Podcasts. There are also some extra listening practice videos on their Youtube channel.
This podcast is unlike the others in this list because it's not formatted like a lesson. Instead, it's a flowing conversation between the two hosts that frequently changes between Chinese and English. Their approach is similar to bilingual books because they teach through immersion and comparison. They don't translate Chinese for you. You hear what the English-speaking host says, and the English context helps you understand what the other host is saying in Chinese. It is less intense than podcasts that are only in Chinese, and these podcasts are easy to listen to while you're working on other things, such as chores, running errands, and exercising. If you want to support their podcast, they have a Patreon with three subscription tiers: $5, $10, and $25. Each tier comes with perks, and if you subscribe at a higher level, you still get all the perks from the lower levels. The first tier gives you access to their Whatsapp discussion group. The second tier gets you an invitation to weekly hangout sessions where you practice your Chinese. Finally, the top tier comes with a free private lesson every month. Mandarin Monkey is very focused on building a community of Chinese learners, so it is an excellent way to meet people who you can practice with.

#7 I Love Learning Chinese
I Love Learning Chinese is another podcast for busy people who are looking for short, daily lessons. There are a few hundred lessons available for free on their website and iTunes. The lessons are divided into 6 different levels; each level has about 25 lessons. Similar to Melnyks Chinese, this series is designed for beginner students to start with level 1, episode 1, and work their way up to level 6, episode 25. There are also several review lessons that go over the previous lessons' main points.
Each lesson is 10-15 minutes long and covers a specific grammar point or vocabulary word. The host, Ashley, goes over the relevant vocabulary at the beginning of the lesson. You can easily follow along with her and repeat the words out loud to practice pronunciation. The lessons also include short, simple dialogues that use the new vocabulary and grammar. I Love Learning Chinese's approach is helpful for students who like to practice vocabulary with repetition and want to see how Chinese grammar works in context.
There are also extra resources on their website, designed for beginner, intermediate, and advanced students. You can freely access PDF notes, flashcard reviews, and writing exercises. One of the most important resources for absolute beginners is their Level 0 lesson, which teaches you how to read and pronounce pinyin as well as understand tones. The podcast lessons and online resources are perfect for beginners who want to learn Chinese in only 15 minutes a day.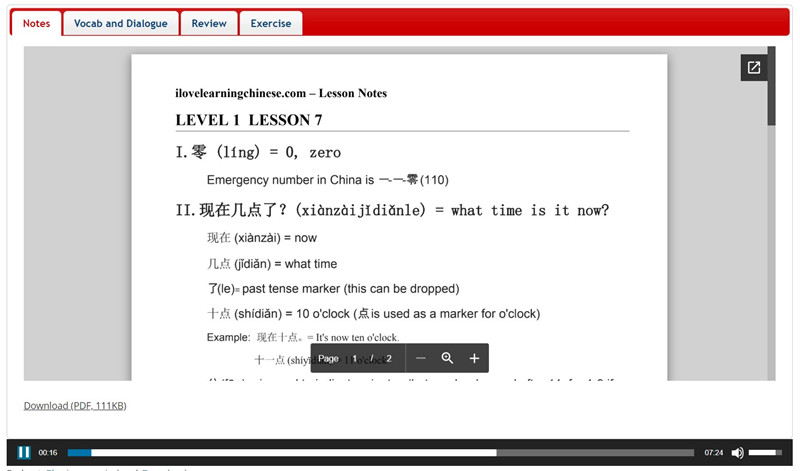 Conclusion
With so many diverse options, there are surely some podcasts that fit your unique learning needs. There are podcasts that act like complete courses, such as ChineseClass101, Melnkys Chinese, and Popup Chinese. Then there are also podcasts that act as a supplement. They help you expand your Chinese knowledge with short daily lessons, like Talk Chineasy and I Love Learning Chinese. If you want to try an immersion-based approach, consider Mandarin Bean and Mandarin Money. With so many wonderful options, it can be hard to choose just one.
You don't have to stop with just one podcast though. You can use one as your main course and another as a supplement. For example, if you listen to ChineseClass101 to learn HSK material, you can also use Mandarin Bean for extra listening practice on topics that you are interested in. Chinese is a complex language, and it can be helpful to learn from multiple sources to truly understand the vocabulary and grammar. Plus listening to multiple hosts speak Chinese will improve your listening comprehension significantly and prepare you to have conversations with native speakers.
Overall, all the podcasts here were selected because they are easy to access and have a lot to offer. Chinese podcasts can be a wonderful teaching tool and will take you far in your studies. So, if you want to try teaching yourself Chinese with podcasts, don't be intimidated by all the options. Pick a couple from this list that interest you and get started!