Travel to China and Learn Mandarin with the Brazilian Game – "Mandarin Journey"
Last updated: February 18, 2015
As a Mandarin student in Brazil, it is very difficult to find decent apps and books to supplement the content I learn in class. The few supplement materials I find require signing into an account and/or paying. But now I can finally say I found an excellent supplement to my studies. Developed by an indie Brazilian studio," Mandarin Journey" is a free IOS app that will entertain Mandarin students of all levels. Through an interactive graphic novel format, the player follows Ken, a Chinese American young man who returns to China for the first time since his childhood to visit his great uncle. While there, he travels through the sights of China and discovers more about his great uncle and his cultural heritage.
THUMBS UP:
– Interactive graphic novel format appealing for all ages
– No account required
– Free, without any paid add-ons
– Smooth gameplay and impressive graphics
– Stores all vocabulary learned
THUMBS DOWN:
– First chapters contains vocabulary too basic for more advanced learners
– Currently, only first chapter available. However, there will be more to come.
REVIEW:
From the first minute of gameplay, the player can see the effort quality of production that was put into this game. The graphics and the playability are very impressive for the standards of educational games, attracting not only young Mandarin players, but also the adult and adolescent audiences. It teaches simplified characters as well as pronunciation. One interesting feature is "Ken's Notebook" where all the learned vocabulary and phrases are stored so the player can access them whenever they want to review. Furthermore, the story is tailored by the choices made by the player, providing the player a more immersive experience, as they participate through the story.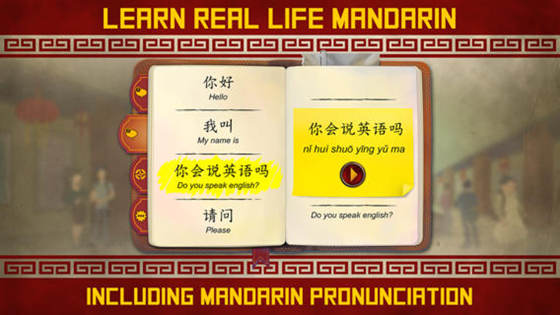 Unfortunately, for students in the intermediate and advanced levels may find this game too easy in the first chapters, as they cover mostly the exposition of the story and so most of the vocabulary taught will seem ordinary like most Mandarin educational games, yet as the story progresses, more complex words are introduced as Ken goes through China. However, its difficulty progresses quickly.
Although I am an intermediate player who has learned all the basic greetings and words, I still enjoyed playing the game because of its overall quality as well as some of the tidbits of Mandarin and culture I learned through this. Restating, the feature I found most useful was the Chinese dialogues in pinyin, which Ken could not understand what they were saying yet, since it is challenging and engaging for the more advanced Mandarin readers.
RECOMMENDATION:
I recommend this game for students of all Mandarin levels, whether they are just beginning to learn Chinese or advanced students who wish to practice their reading and learn more about Chines culture.
The more advanced learners can practice reading the dialogue in pinyin, since they contain a more complex grammatical structure, more appropriate for the students in higher levels.