Why Chinese Stroke Order is Important and How to Master it
Last updated: September 29, 2023
What is stroke order?
The Chinese stroke order system was designed to produce aesthetically pleasing, symmetrical and balanced characters written with brush and ink on paper. It allows for the minimum amount of hand movements, meaning that the writing flows across the page – remember that scene in Crouching Tiger, Hidden Dragon, where Jen Yu and Yu Shulian compare the art of calligraphy with sword-strokes?
Luckily for learners of Chinese, the rules aren't too complicated, and have a kind of logic of their own when you start applying them consistently. They also conserve energy, so your hand won't be tired from writing.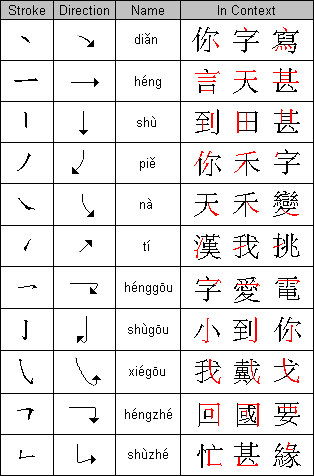 Why bother to learn stroke order?
It'll give you much better Chinese handwriting, winning approval from your teachers and any other Chinese person who tries to read it.
Well-written Chinese characters are much easier to read, and you will find that knowing the correct stroke order helps you to memorize more characters, as your hand seems to retain a kind of muscle memory with practice.
Also, it's much easier to understand the different patterns and elements that make up Chinese characters when you know how they're supposed to be written.
Knowing the right Chinese character stroke order also improves your reading ability, because the structure of the characters will be more familiar to the eye.
And when you want to input a character using Pleco's handwriting option, the app will recognize correct stroke order even if your handwriting isn't the best.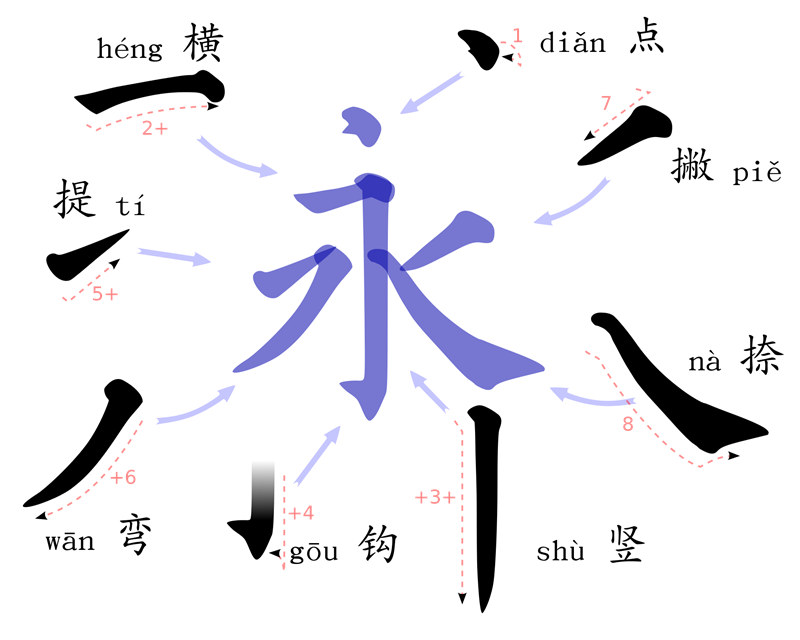 How to master stroke order
First, the main rules of Hanzi stroke order:
1. Top to bottom
When a Chinese character is "stacked" vertically, with elements on top of each other, like the character 立 (lì) or "to stand," the rule is to write from top to bottom.

Other examples:
三 (sān) three

主 (zhǔ) main, master

亏 (kuī) deficit

2. Left to right
When a Chinese character has elements standing next to each other, the character is written left to right. Take a look at the "吃 (chī)" example below, which means "to eat." The "mouth" radical is written before the element on the right.

Other examples:
从 (còng) from




3. Symmetry matters
When you are writing a character that is centered and more or less symmetrical (but not stacked from top to bottom) the general rule is to write the center stroke first. Check out the character "小(xiǎo)" which means "small."

Other examples:
永 (yǒng) forever

水 (shuǐ) water

4. Horizontal first, vertical second
Horizontal strokes are always written before vertical strokes. Check out how to write the character "十(shí)" or "ten."

Other examples:
王 (wáng) a surname



5. Enclosures before content
Build your fences before you put the chickens inside.
You want to create the frame of the character before filling it in. Check out how to write the character 日(rì) or "sun."

Other examples:
目 (mù) eye


6. Close frames last
Let the people into the house before you shut the door.
So, with the character "回(huí)" or "to return," you write the outer enclosure first (see rule 5), then the little box, then the line at the bottom that "shuts the door."

Other examples:
国 (guó) country

园 (yuán) garden

7. Character-spanning strokes last
Strokes that cut across all the other strokes are often written last. For example, the character 半 (bàn), which means "half." The long vertical line is written last, because it cuts through the rest of the character across its whole length.

Other examples:
中 (zhōng) center, middle

申 (shēn) apply

Other tips for learning stroke order
There are a number of Chinese-learning apps, e.g. Skritter, that offer animated stroke-order diagrams, as well as a breakdown of the radicals, tones and pronunciations associated with each character.
Personally, I prefer to use a good, old-fashioned pen and paper, because I feel more connected to the characters that way – it's a very different experience than swiping on a screen with a finger or stylus.
In the beginning, I also had a set of flashcards that were held together with a keyring to help organize the characters I was practicing.
For all Chinese characters orders practice, you can download the sheet here.
Top tip: make sure before buying a set of flashcards that they include stroke order.
Another handy learning tool is grid paper, or 田字格纸 (tiánzìgézhǐ), which helps to keep your characters looking well-proportioned and your handwriting neat. There is even grid paper called 米字格纸 (mǐzìgézhǐ), which includes diagonal guidelines to make your characters even neater and clearer.
Hanzi Grids offers downloads of printable grids that you can practice on. Or you can seek out a Chinese stationery shop – always a favorite pastime of mine – and buy a big exercise book to practice with at home or in the library.
Whichever tools you use, I recommend doing a little bit of practice every day. Research has shown that "little and often" is the way to go. One of the benefits of digital Chinese learning apps is that they will record your daily practice time and keep you on track, as well as giving you the most appropriate content for your level.
For more on how to get started learning Chinese characters have a look at this Dig Mandarin article: Chinese Characters: Are they worth learning? How do I get started?