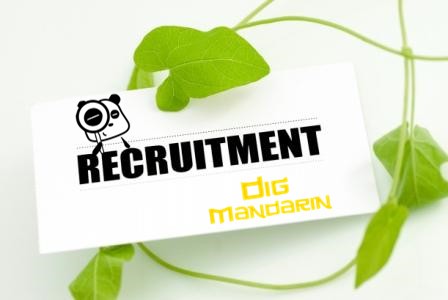 English Editor Wanted (Part Time)
Do you have related experience in English or Chinese?  Are you looking for a role where you can develop your mandarin Chinese skills and grow your English editorial experience? Are you willing to make this Chinese learning platform better and help more learners? This is a broad editorial role and would suit a candidate with some previous editorial experience within a Chinese learning environment.
We are currently recruiting English Editors (part time) for the world's leading source of information for Chinese language and culture. Teamwork and language skills will be a real strength and you will have pride in the fact that you are delivering a quality output that enables a profession that shapes all audiences` knowledge of Chinese.
Contact Us:
Key Actions/Responsibilities:
Native English Speaker with related experience in Mandarin Chinese and keen on Chinese language and culture
Editor needs to have good attention to detail, grammar, writing and editing skills
Development responsibility for a big portion of our content.. Editor has the final responsibility for any errors so you need to be confident in taking on that responsibility especially when working under tight time pressure to meet publishing deadlines.
Excellent online writing and editorial skills with an ability to adapt to the authors` writing styles, and manage the performances of contributor/freelance staff.
Launch new projects (optional)
Evaluate new journal proposals (optional)
Benefits include:
Improve mandarin Chinese skills fast and effortless.
Have chances to experience various pay-for-use Chinese learning materials/app/tools for FREE.
Flexibility!Working anywhere you want.
Build your public profile at our site and enrich your related experience.
Reasonable payment.
Have chances to practice Chinese with Chinese people regularly.
Have chances to launch new projects and make your ideas come true.