MandarinBean Review: Practice Chinese Reading and Listening
Last updated: June 6, 2018
With the wealth of internet resources of the modern age, many people are turning to websites designed to help mandarin students, blogs, or even chatrooms for help. The days of reliance on courses and textbooks are behind us and it is my opinion that this new virtual approach brings with it some great advantages as well as a few pitfalls. One such pitfall is the lack of standardization across resources. This post will look at MandarinBean and attempt to determine if it is worth your very valuable time.
MandarinBean is a new English language website that attempts to "provide Mandarin Chinese learners with easy access to study materials that are high-quality, contextual …and definitely not boring!" At a glance the website is aesthetically pleasing, clearly labeling everything and sporting bright pictures on a clean white background.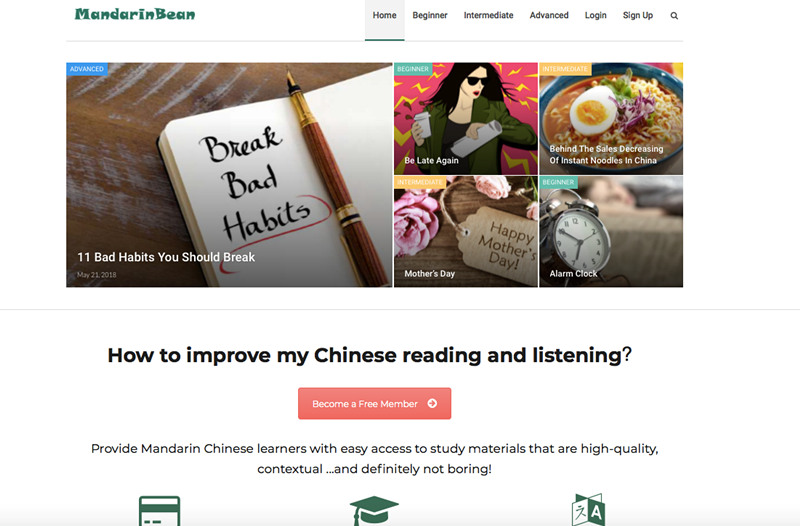 The content, all of which is accessible for free, is grouped into three levels: Beginner, Intermediate, and Advanced. The website conveniently labels each entry with a corresponding HSK level. Beginner is made up of content from HSK Levels 1 and 2, Intermediate from HSK Levels 3 and 4 content, and Advanced from HSK Levels 5 and 6 content. As expected, each higher level brings with it more advanced vocabulary, typically longer entries, and more complex subject matters.
In addition to categorizing by HSK level, MandarinBean also employs a tag system to further group the entries. The tags used include Business & Economics, Culture, Fun, History, Lifestyle, News, Story, and Travel. These tags allow you to sort by entry topic and help you to easily find and learn about the content you're most interested in.
With a free membership, all entries can be viewed in either simplified or traditional characters (a single click allows you to easily switch between the two). A membership also provides you access to the site's notes, translations, and Download Center which makes all entries downloadable as PDFs in both simplified and traditional characters. The notes typically come in the form of important vocabulary from the entry and also include a link to Quizlet, allowing you to practice these new words with digital flashcards.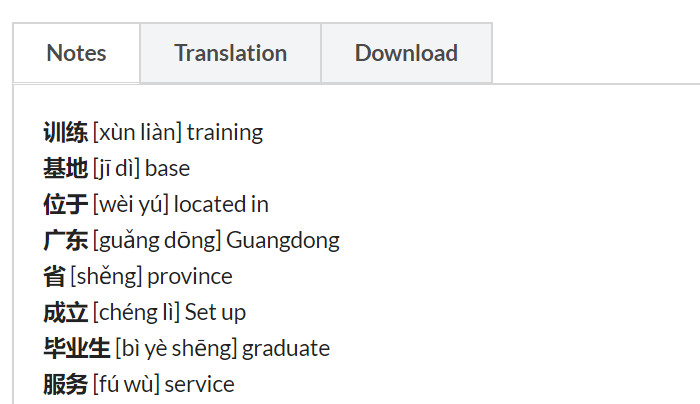 An additional perk from a current membership is the ability to bookmark your favorite entries, making them easily accessible from your free profile.
To this point, this website probably sounds pretty standard but there is one characteristic that makes it stand out.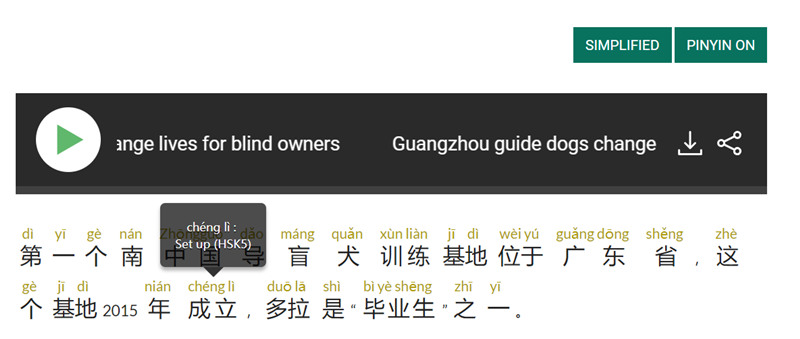 Every entry includes pinyin which can be hidden from view, an audiotrack recorded by a native speaker, and a popup dictionary for each word's english meaning. The popup dictionary is reminiscent of Perapera and really serves to expedite the learning process. It is here where MandarinBean sets itself apart from many other similar sites. The convenience and thoroughness really impressed me and definitely warrants further use.
The site still appears to be in the preliminary stage of development so between the lack of options and the clear "free" label next to my profile, I would imagine there is more to come and the creators will eventually introduce buyable add-ons.
It is here where my largest critique of the site arises: it's just too new. With it only being a few months old, there is not a huge amount of entries in total. The amount is impressive given the brevity of MandarinBean's existence but I was able to read through all of the Advanced content (22 entries at the time of writing) in a few hours. Especially with the assistance of the popup dictionary making up for any of my vocabulary limitations.
While not a lot in aggregate, I was very pleased with the quality of the content – some of the more advanced entries being made up by news articles, blurbs, or even accounts originally in English translated into Chinese (one example being Elon Musk's "Five Secrets of Success for the Young.") Overall I quite enjoyed my time using MandarinBean and look forward to them amassing more content. In my opinion this is a great supplementary source to your Mandarin learning endeavors. With practical content, a simple layout, and thorough entries, this site is an abundance of convenient that, at least for the time being, is accessible in its entirety for free.