Where To Find the Best Chinese Graded Readers
Last updated: September 29, 2023
Reading is one of the most efficient ways to put your Chinese skills into practice and improve them. The key abilities used when reading include recognizing Chinese characters and vocabulary and understanding Chinese grammar and culture.
More and more learners realize that they need more reading practice. They search for newspapers, magazines, and the news to get more reading materials. Except for some advanced learners, very few people can learn productively this way. There are many obstacles, such as too many new words and grammar concepts above their current level. This quickly leads to frustration.
So, their problem is lacking suitable Chinese reading materials, especially content that covers various topics. That's why we recommend Chinese graded readers (中文分级阅读). They can help build Chinese language skills while providing personalized content. These more suitable reading materials can promote self-teaching to improve language abilities.
Chinese teachers and students alike can all use graded reading materials as a scaffold to help with their Chinese learning. Learners should spend 10-40 minutes per day reading the corresponding level reading materials. It can be skimming or intensive reading, which is an excellent way for learners to cultivate good habits while expanding their target language knowledge.
General Chinese Graded Readers
The concept of graded readers is not only for kids, but for learners of all ages and levels. However, unlike reading materials for kids, adults need more valuable and helpful content to keep them involved and make it feel worth spending the time. Well, these textbooks are well organized and categorized. Whether you're learning business Chinese, travel Chinese, test-oriented Chinese, or general daily conversation, you can always find the related reading materials classified by language levels.
Books:
The Developing Chinese series is a complete set of Chinese language books. The reading course is divided into two levels (intermediate and advanced). Its writing respects the reading habits of learners in their actual reading. It balances the difficulty very well. This textbook fully considers the learner's language ability and reading level and reduces reading difficulty by controlling the word level, sentence length, and content complexity. After studying this course, learners will improve their reading ability quickly, and it will enable them to experience and understand contemporary China. This reading course is the perfect match to the Developing Chinese textbook series.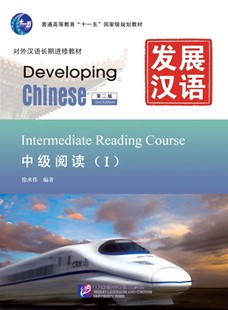 Ledu(乐读)is a set of very new reading textbooks. They're designed to cultivate the reading ability of Chinese learners. The lessons follow a specific sequence (strokes – characters – words – sentences – paragraphs) to comprehensively improve reading skills. There are six volumes in total. Whether you are a beginner or advanced learner, there is a volume for you. This textbook series emphasizes diversification in the choice of subject matter. In the "Live Reading" section, students are also provided with signs, posters, enlightenments, online posts, and other text materials that can be seen everywhere in their daily lives.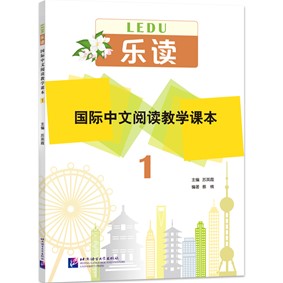 Digital materials:
Textbook dialogues and texts are excellent for acquiring basic language knowledge. But alongside that learning, you might feel unsatisfied because some materials in your textbooks are too basic and sometimes outdated. Especially when you get beyond the beginner level and need to communicate with others in daily life or in a work setting, the vocabulary and topics covered in textbooks are pretty limited. Here are some recommendations for supplemental Chinese graded reading materials.
With Mandarin Bean, you can easily find your ideal reading content by searching by HSK levels or various tags. The level of each piece is determined by if a learner at that level can understand 70% or more of the text. You can acquire new words and expressions while reading the topics that interest you—news, business, lifestyle, travel, culture, etc. Mandarin Bean rewrites many trending stories with words to match your level so that you can practice reading while learning something new. It's perfect for independent reading since they provide the Pinyin, translation, and even new vocabulary practice exercises. Since it's not entirely written based on the HSK vocabulary list, you can also learn the latest buzzwords and concepts, which are excellent for daily communication with Chinese people.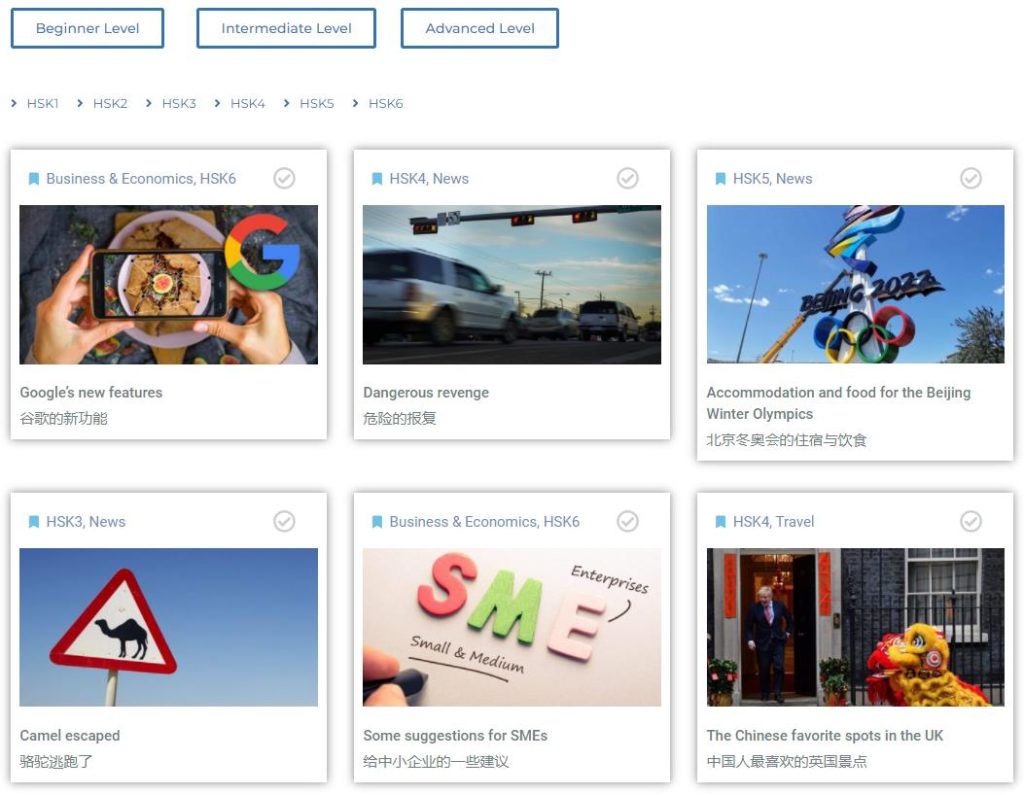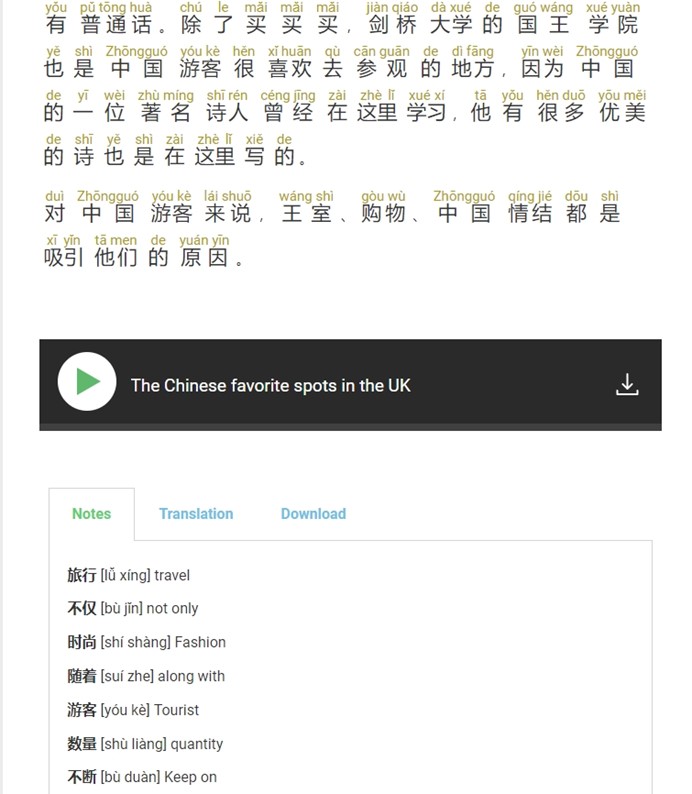 If you are looking for a reading app, Du Chinese is quite an excellent choice. There are six levels from Newbie to Master. Each increasing level makes the sentences and vocabulary more and more challenging. There are also many conversations to read as well. If you are stuck on a new word, a simple tap gives you the word's meaning and pronunciation, and you can save it as a flashcard for later.
Chinese Graded Reading for kids
There are many similar concepts seen in all the Chinese graded readers for kids. As the level increases, the reading materials gradually become more and more challenging, and the sentence structures will be more complex. Many high-frequency words are used in the books to help kids memorize them. Also, there are many repeated sentences and phrases at the beginning that correspond with kids' learning patterns.
Online Graded Readers:
Little Fox Chinese is quite popular among Chinese teachers and kids. This site releases a number of Chinese stories, songs, and games for kids. There are five content levels, from basic vocabulary and sentence forming practice to simple sentences about thoughts and feelings. All the topics are pretty common, which makes them suitable for lessons and after-class independent reading. The stories are presented in videos, which draw kids' attention. The transcription, pinyin, and translation are also provided in text format. This after-class reading comprehension and vocabulary practice can be checked by taking quizzes and playing games.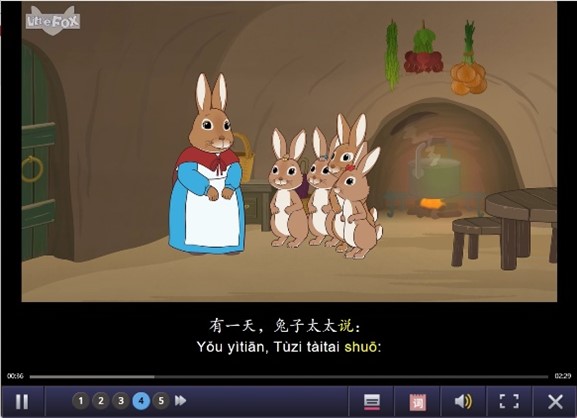 There is a specific category for reading at eChineseWorld. It's designed for K-12 Chinese learners according to ACTFL's proficiency guidance, AP, and IB themes. It also satisfies the Common Core State Standards. There are three levels: novice, intermediate, and advanced. Each levels has three grades. Its reading collection includes elementary level eBooks, eFunland, Animated/Comic Reading, Secondary Social Studies Reading, and Secondary Leveled Readings. Chinese culture is integrated into the entire collection. Students can do independent reading and listen to it. But the post-lesson exercises and activities need to be assigned by the teacher.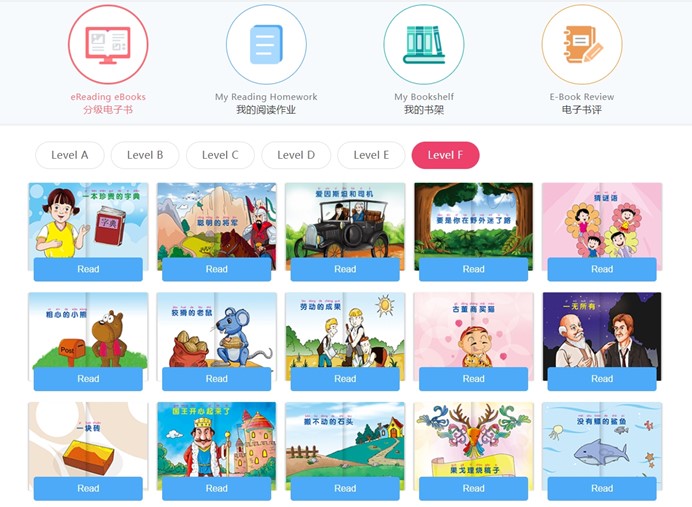 Printed Graded Readers
The whole Rainbow Dragon series is about theme-based Chinese learning, including 15 common themes, such as family, body, food, time, etc. The stories are diverse and interesting, with lovely illustrations. For better learning, the content is scientifically graded by three levels of difficulty, targeting Chinese learners at overseas mainstream primary and junior high schools and international K-6 schools. After studying this series, kids will master around 2000 common Chinese words and be ready for daily communication. Besides the books, there are also mobile gaming apps and evaluation tools as a supplementary resource.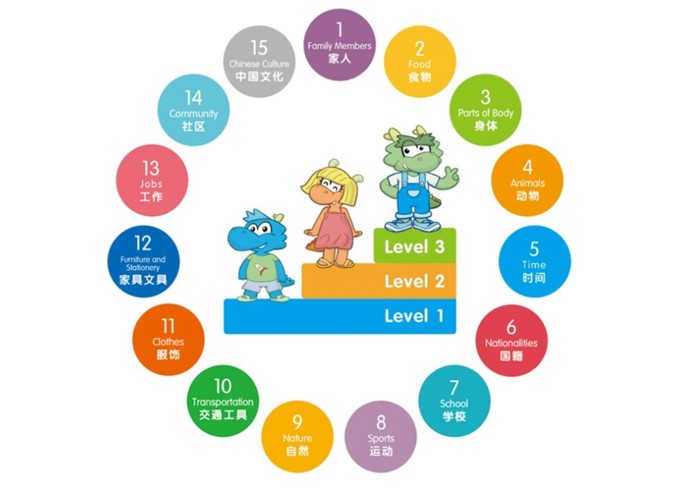 Smart Cat has two series: one for youth (10-18 years old) and one for kids (under ten years old). There are three grades at the youth stage and four grades at the kid stage. Reading is the critical skill it focuses on while listening, speaking, writing, and presenting are expanded skills. The books cover most HSK & YCT level 1-4 vocabulary, grammar, and topics. Books are constructed based on two related 10~12 sentence stories. It builds Chinese language and culture skills in a spiral-up approach. There are also supplementary audio resources and flashcards on its website.
Graded Reader Apps:
Apple App Store and Google Play Store
There are 12 levels in the WaWaYaYa Joy Reader app, which cater to K-6 Chinese learners. This app is more like a digital library where you can find many familiar book series, such as Cool Panda, Rainbow Dragon, and I Read & I Learn. The full display of the books and friendly interface is quite neat and organized. The narration function is also authentic and pleasing. The variety of topics also adapts to the features of each age. They won't be bored easily. And the price is also very reasonable for such a significant number of books.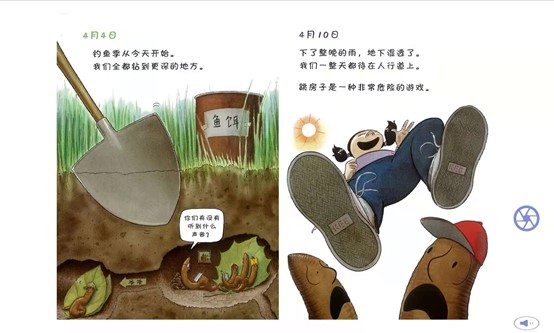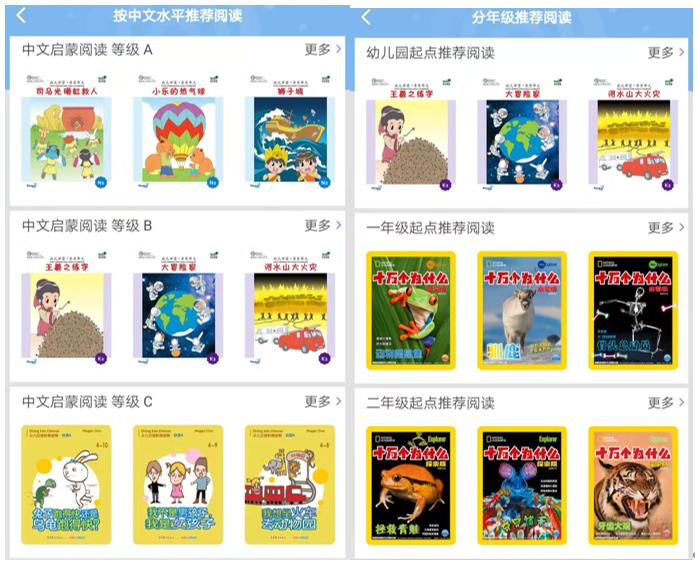 With so many websites, apps, and books to choose from, there's no shortage of excellent graded readers to take your Chinese to the next level. These resources can be beneficial for learners of all levels and ages. Consistent reading practice not only helps with passive understanding of Chinese, it also strengthens your vocabulary and understanding of grammar concepts.
If you're looking to try out graded readers for the first time, pick one or two resources to check out, and see which best suits your needs. You may quickly discover your new favorite Chinese learning resources and revolutionize your study routine!